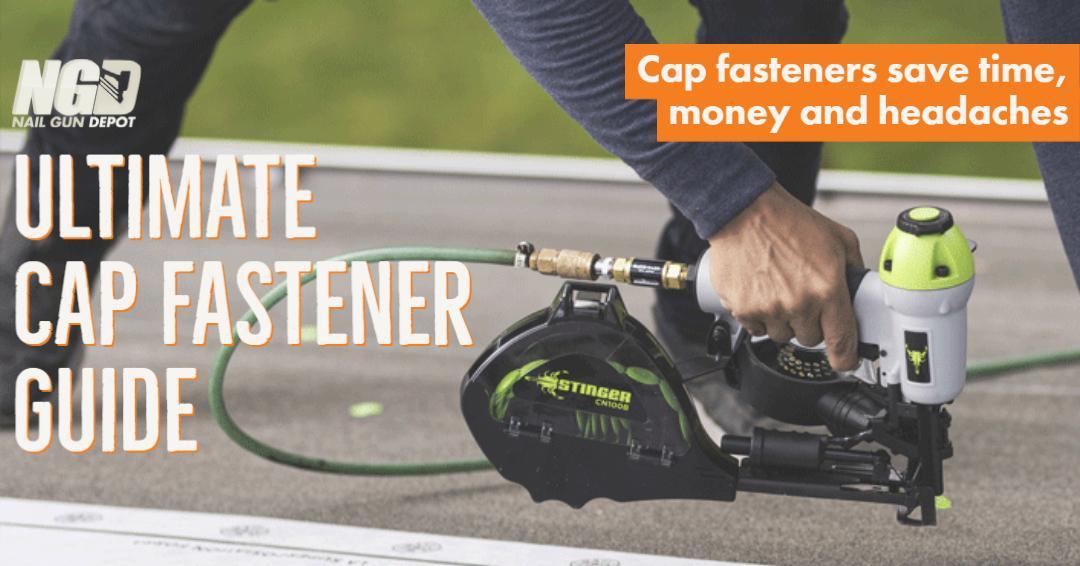 An age old cliche, "it's what's on the inside that counts;" no statement rings more true when looking at roofing or siding. While roofing shingles and vinyl siding are a great first line of defense against moisture, when severe weather hits, you don't want to rely on a low quality moisture barrier to protect your most valuable asset. Enter cap nails, the solution to properly securing underlayment with a strong and long-lasting bond. Considering moisture barriers are critical in preventing water damage - are you confident you're using the right fastener for the job?
Benefits of Collated Cap Nails/Staples and Pneumatic Cap Systems
Better Performance
While hand-drive cap nails do offer an improvement over nails alone, they don't always form an effective seal, much of which is contingent on the precision of the person controlling the hammer. Collated cap nails and staples, like Stinger's 1" Plastic Cap NailPac, are more durable, code-compliant, and create a reliable seal that can withstand nature's worst.
According to Stinger, their caps "won't crack under prolonged UV exposure, lasting up to 10X longer than hand drive caps, exceeding ASTM D7869-17. They are also code-compliant and proven through independent testing to hold in Category 5 hurricane sustained winds of 150 to 180 miles per hour, which is why it's the only fastener of its kind to earn Florida Product Approval." Creating an effective seal, reducing moisture penetration, while limiting tear-aways of exposed underlayment all qualify these cap fasteners for extreme weather year round.
Faster Installs
The speed of installing hand-drive cap nails is limited by how quickly you can grab a new fastener from your pouch and nail it in place. Pneumatic cap nailers, like the Stinger CN100B Cap Coil Nailer, improve pace by minimizing the need to reload and eliminating the time required to hand-drive each fastener; allowing users to swiftly fasten rows of underlayment in a fraction of the time it would otherwise take using traditional methods.
Safer Jobs and Homes
With hand-drive cap nails, you need both hands to grab the next fastener and place it in front of the hammer, which can be slow - and often dangerous - especially when on a sloped roof. A cap nailer or a cap stapler, such as the CS150B Cap Stapler from Stinger, accounts for safer installation, as it allows you to maintain full control single handedly while nailing, reducing the risk of falls and accidents.
Cap Nail vs Cap Staple
Both cap nails and cap staples have their own advantages, depending on the application. Cap nails are ideal for heavy-duty applications, such as roofing felt and underlayment. Cap staples, like the ones found here on Nail Gun Depot, are perfect for less dense materials, like insulation or house wrap. Note, there can be overlap between when a cap nail or cap staple is most appropriate for the job. We feel the cap staple offers slightly improved holding power due to the clinch it provides between the cap and sub-surface, however not all materials are staple appropriate. Most local codes will specify the fastener of choice.
Conclusion
For roofing contractors and general contractors alike, collated cap nails/staples and pneumatic cap nailers/staplers, such as those available at Nail Gun Depot, are the safest solution. They offer better performance, faster installations, and safer working conditions, resulting in a superior final product. Put down the hammer and embrace the better, faster, and safer combination of collated cap fasteners. Explore our selection of cap nails, cap staples, and pneumatic cap systems today.