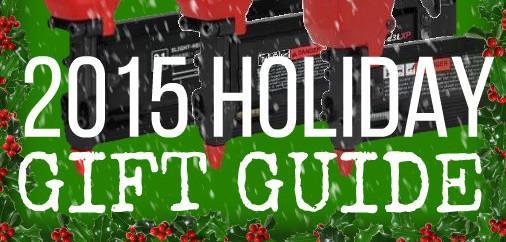 What new tool would you choose for your favorite woodworker, craftsman, or contractor this holiday season? What about the hobbyist that has it all? Nail the 2015 holiday season - giving the gift of tools. We're making merry on the Nail Gun Network this year. Check out our top gift picks for the holidays, and steal a deal for yourself, family and friends.
Spotnails PS7116 Upholstery Stapler: The Spotnails PS7116 air-powered upholstery stapler drives 5/32" to 9/16" 22 gauge 3/8" crown staples. Includes one-year warranty and rugged plastic carrying case. Features a front exhaust, and lightweight design for added comfort. New design boasts improved overall performance. Applications for this upholstery stapler include bedding, automotive vinyl, insulation, general upholstery, packaging, speaker grills and wire screen insulation. A holiday bonus, all Spotnails upholstery staplers sold between now and December 31st, 2015 are eligible for a free staple remover with purchase - while supplies last. 
Freeman PPPBRCK 2-Tool Trim Kit: The PP123 23 gauge micro pinner and PBR50Q 18 gauge brad nailer, two-piece finish and trim combo kit from Freeman Tools, is perfect for any value-driven woodworker. Don't sacrifice quality for cost - get both with Freeman's line up of finish and trim tools. For added peace of mind, all Freeman tools come with a seven-year manufacturer's warranty. In addition to the brad nailer and micro pinner, this kit includes a canvas carrying bag and fasteners for each tool.  The Freeman PBR50Q 18 gauge brad nailer, which drives 5/8" to 2" straight brad nails, is perfect for applications that include trim installation, cabinet building, panel installation, furniture repair, baseboard mounting and more. The PBR50Q brad nailer features 360 adjustable exhaust, air filter, aluminum magazine and cylinder design, finger depth adjustment, quick jam release, and no-mar tip. The Freeman PP123 23 gauge pin nailer, which drives 1/2" to 1" headless pin nails, is excellent for small trim, cabinet doors, picture frames, craft building and more. The PP123 headless pinner features an aluminum magazine and cylinder, internal air filtration, comfort grip handle, and safety lock - among other features. 
Stabila 24" Type 196LED Lighted Level: The Stabila 39324 Type 196LED "The Lights" spirit level, 24" in length, includes optimal clarity - provided by two illuminated, easy to read vials and two removable light packs. LED light packs double as convenient flash lights. No wires or light bulbs go bad in the frame. Easily replaced AAA battery provides 5 hours of continuous use (approx 600 uses). Dependable magnetic switch with large button is easily accessed, even with gloved hands. Other features include auto shut off after 100 seconds and IP54 dust and waterproof rating. One Horizontal (level) and two Vertical (plumb) vials - vials are guaranteed for life. 
Senco PC1010 Air Compressor: At 20 lbs., the Senco PC1010 oil-less air compressor features an extremely lightweight and ultra quiet design. Includes one-year warranty. This hand carry compressor also features an electric direct drive motor for increased efficiency, aluminum cylinder, oil-less pump, 1/4" coupler, and cushioned hand grip. The PC1010 is great for finish and trim work, upholstery, hobbies and crafts. 
MAX CN445R2 Roofing Nailer (replaced by MAX CN445R3): The MAX CN445R2 SuperRoofer coil roofing nailer drives 15 degree wire collated roofing nails from 3/4" to 1-3/4" in length. The lightweight CN445R2 roofing nailer features a rapid fire trigger with minimal recoil, tar resistant nose, powerful motor for hardwoods or re-roofing, removable contact foot for easy cleaning, magnetic nose to prevent jamming, adjustable depth of drive, and maintenance free end cap filter. A vinyl siding kit, sequential trigger kit, and anti-double fire kit are available separately. This MAX coil roofing nailer is excellent for everyday roofing, siding, box assembly and tile board applications. 
Stabila 03160 LA5P 5-Point Layout Laser: The Stabila 03160 Type LA-5P LaserBob five point laser includes a laser, target plate, wall mount bracket, high stability framing base, manual and pouch. Pendulum lock for added protection during transport and storage. Features an integrated V-groove rare earth magnet mount, an adjustable base that lifts the laser over its tracks and bottom plates, plumb points up and down, 100 ft. visible range, and self-leveling design. 
Senco Fusion Finish or Brad Nailers: Purchase any Senco Fusion finish or brad nailer between now and December 29th, get a FREE spare battery - while supplies last. Choose between the Senco Fusion 15 gauge finish nailer, 16 gauge straight finish nailer, 16 gauge angled finish nailer, or 18 gauge brad nailer. All cordless - powered by 18V lithium ion battery. 
Grex GPK01 or Cadex CPB21/23K: For a limited-time, choose between Grex and Cadex Pinner Playoff bundles, only available on Nail Gun Depot. First up, the Cadex CPB21/23K 21 & 23 gauge pin nailer combo kit includes one CPB21.50 21 gauge pinner, and one 23.35 23 gauge micro pinner, sample air tool oil - and comes in a rugged systainer case for added protection. For the Grex fanatic, grab a Grex GPK01 P635/1850GB promo bundle, which includes one P635 pin nailer, one 1850GB brad nailer, one P6/MP-3 variety pin pack (500 ct.), one P6/MP-L variety pin pack (500 ct.), and one GBN18-MP variety brad pack (500 ct.). .
Hitachi NV83A4 Coil Framing Nailer: (replaced by NV83A5) The Hitachi NV83A4 air-powered coil framing nailer, item# NV83A4, drives 2" to 3-1/4" full head wire collated coil nails. Light enough for one-handed operation, this Hitachi nail gun is excellent for a variety of high production tasks. Features an aggressively hardened safety to reduce wear, selectable trigger for bump fire or sequential operation, and rubber-molded hand grip. Applications for the Hitachi NV83A4 nail gun include high production framing, sheathing, decking, sub-flooring and pallets. Get a FREE 7-1/4" saw blade when purchasing ANY Hitachi framing nailer between now and the end of the year - while supplies last.
With choices like these, whether you're looking for a Stocking Stuffer - or want to be the best Secret Santa ever - there's something for everyone on Nail Gun Depot. With over 2,000 products available, shop NGD year-round for everything fastening - and more. Don't forget, fastening tools come with FREE ground shipping to most U.S. states, so be sure to place holiday orders early to avoid late delivery.
~Happy Holidays From The Nail Gun Depot Team
**Offers listed are not guaranteed, and are based on availability.