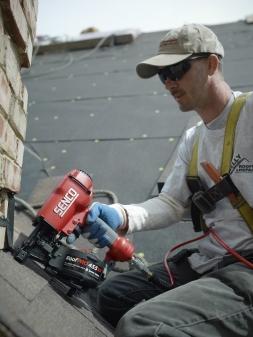 When it comes to the "big" nail guns - framing, roofing, siding - many contractors trust Senco to get the job done. For roofers, Senco has a couple options in their RoofPro series of roofing nailers, the 445XP and the 455XP (replaced by the 445XP). Find out what makes Senco RoofPro nailers unique, by exploring the Nail Gun Network.
What's the difference between Senco's RoofPro 445XP and 455XP roofing nailers, you ask? Well, to be honest, very little. The two tools offer a small list of subtle differences, but are very similar in how the operate overall. The biggest difference between these two pneumatic roofing nailers, air consumption. The 455XP is a slightly larger nail gun, and uses about twice as much air to keep it running. The extra air could provide slightly more driving power than the 445XP, but for many, the difference won't be significant enough to sway preference.
The
Senco
RoofPro 445XP
coil roofing nailer (8V0001N), drives
3/4" to 1-3/4" roofing nails
.
With a five-year manufacturer's warranty included out of the box, the 445XP features a thumbwell adjustable depth of drive, aluminum body for durability, and a bi-metal driver blade for reduced wear. A unique

two-piece firing valve allows for reduced air consumption without compromise on power or speed
,

and a power in/power out pneumatic feed system improves speed and delivers consistent drives
. An adjustable/removable shingle guide, adjustable nail canister, comfort grip, and steel wear plates are among other options offered on this coil roofing nailer that improve usability. Combine all this with an

easily serviceable design - all wearable parts are accessible from the top of tool - and you are set for success.
T
he Senco
RoofPro 445XP is perfect for asphalt and fiberglass shingle nailing, for both new
roofs and re-roofing - ideal for attaching waterproof tar paper, metal drip edges, insulation board, and with a special optional attachment, vinyl and aluminum siding.

The

Senco RoofPro 455XP

air-powered coil roofing nailer (3D0101N) (replaced by the 445XP, drives
3/4" to 1-3/4" roofing nails
. Also toting a five-year manufacturer's warranty, the 455XP includes a case, oil and wrench. This roofing nailer features a tool-free adjustable depth of drive, adjustable shingle guide, aluminum body for longer life, and steel wear plates to reduce shingle wear on the tool.

The Senco

455XP is specifically
recommended for asphalt and fiberglass shingles, waterproof tar paper, new roofs, re-roofing, insulation board and siding - when using with a siding attachment.

Choose from a variety of roofing nailers, framing nailers, siding nail guns and more on Nail Gun Depot. Several manufacturers including a full-line of Senco products available to choose from. Don't wait - check them out now!