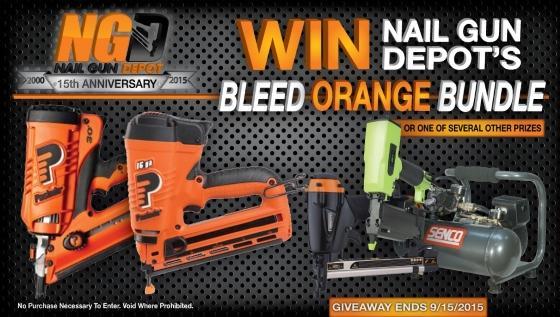 Nail Gun Depot is celebrating another milestone with the launch of our 15th Anniversary Giveaway. Otherwise dubbed the "Bleed Orange Giveaway," we're giving anyone interested the opportunity to win our grand prize "Bleed Orange Bundle," a prize pack of products core to our brand. Celebrate fastening with orange and black, it's easy to enter.
The giveaway, scheduled to run June 1 through September 15, is open to U.S. residents only. Prizes in the giveaway include a Freeman PFWS fine wire stapler (winner drawn on June 15), a

Senco PC1010 compressor

(winner drawn on July 15), and a Grex P650LX micro pinner  (replaced by the Grex P650LXE headless pin nailer) (winner drawn on August 15); culminating in one grand prize winner receiving our "Bleed Orange Bundle," which consists of a Paslode CF325-Li framing nailer (replaced by Paslode CF325XP cordless framing nailer - 905600) and a Paslode IM250A-Li finish nail gun. We'll draw our grand prize winner on September 15 to close out the sweepstakes - but the sooner you enter, the more chances you have at winning!
Thank you for letting us serve your tool and fastener needs for the last 15 years. Your continued business has made this anniversary celebration possible!
~ The Nail Gun Depot Team