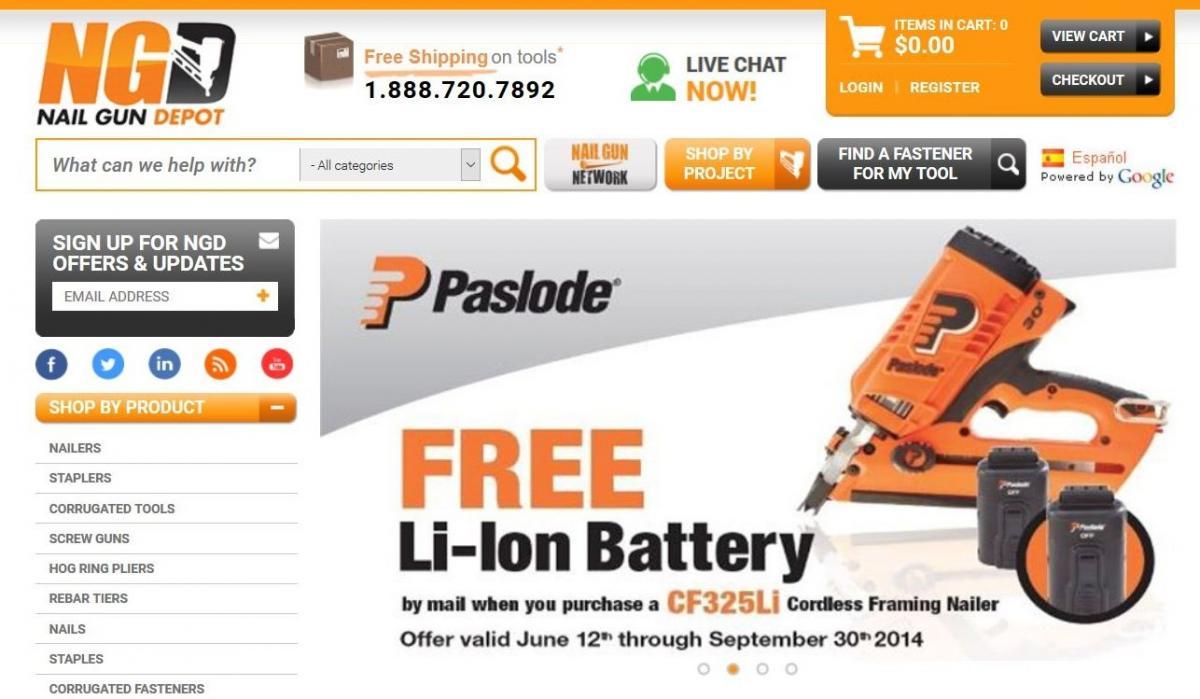 Welcome to the all-new Nail Gun Depot - your everything source for fastening and construction supply. Whether you're looking for a tool, fastener, how-to advice or expert tips - we've got it all. With competition online as fierce as ever, we're going the extra mile for our customers - ensuring you get the right product for your project, at a competitive price.
Don't take our word for it, check out some of the great new features all visitors can enjoy on Nail Gun Depot:
Search The Nail Gun Network: The new Nail Gun Network has truly become a site within a site. More than a blog, choose between how-to articles, video demonstrations, manufacturer bulletins, tool news, expert tips and so much more. We've listened to you, and have designed our Nail Gun Network to offer each user a personalized experience.
Navigate On Your Smartphone: We've finally gone mobile. Shop Nail Gun Depot from any smartphone or tablet via our new mobile layout. Get the same great information from your desktop computer - now at the tip of your finger.
Shop By Project Type: For customers that don't quite know what they need, but know what they need to do, visit Nail Gun Depot's new product recommendation tool - Shop By Project. Another way to search for products, we've sorted items by the applications they are designed to excel at. With categories for concrete, decking, upholstery and more, let our Shop By Project tool pair you with the right items for your job.
Browse The Fastener Finder: Along with the rest of Nail Gun Depot, we've given our one-of-a-kind Fastener Finder app a face-lift. Know which tool you own, but not sure what fasteners will work with it? Simply select the brand and model of your tool from the drop down menu, and let our Fastener Finder do the rest. With an expanded selection of both late-model tools and new release items, choose between more than 7,500 different product combinations.
Explore Our Freight Shipping Program: Want to buy in bulk, but not pay standard shipping rates? We have a solution for that. Nail Gun Depot now offers common-carrier, freight shipping options during checkout. Buying a skid of nails? Simply choose the freight quote that best suits you during checkout. Our logistics team will do the rest - making sure your products arrive without hassle.
Enjoy Enhanced Customer Profiles: The new Nail Gun Depot is designed to optimize user experience from top to bottom. We've gone the extra mile to make sure our customers enjoy a seamless experience while visiting the site. Store contact information, reorder with the click of a button, manage customer preferences, submit product reviews, save products to order later, and more.
Build A Custom Wishlist: Want a new tool, but not quite ready to place an order? Save it for later with Nail Gun Depot's new wishlist builder. Located within your user profile, store any product on the site for later, save comments on each item, and even share your wishlist with others via email.
Want more? We've only just begun. Stay tuned as we continue to expand our product selection, and roll-out new features on Nail Gun Depot. Whether you're a contractor, expert, DIYer, amateur - or anywhere in between - we've got something for everyone on Nail Gun Depot and The Nail Gun Network.
Have questions, comments or feedback? Feel free to contact us. 
~ The Nail Gun Depot Team