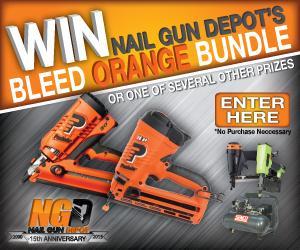 Celebrating 15 years in business is quite a milestone - a milestone that wouldn't be possible without the great customers that choose to make Nail Gun Depot their #1 source for power fastening tools, fasteners, accessories and more. To thank our awesome customers - and prove our value to new ones - we wanted to give away a prize pack like no other... enter the Bleed Orange Bundle. Discover what makes each item in the Bleed Orange Bundle important to our mission at Nail Gun Depot:
A Tool For New Territory - Freeman PFWS: If you've frequented Nail Gun Depot in the last few months, you've probably seen a few new brands in our lineup. One of the recent additions on Nail Gun Depot, we're pleased to now carry products offered by Freeman Tools. The company offers a variety of air-powered nailers and staplers - built with the integrity of other brands you have come to know, but with a value-minded price point to entice the amateur woodworker. Look for new product additions from Freeman Tools in the coming months, as we continue to expand. An added bonus, we couldn't beat Freeman's orange and black color scheme.
A Compressor For The Masses - Senco PC1010: When you think about light-duty air compressors, the Senco PC1010 has been a solid industry contender for several years running. Combine its lightweight body, reduced-noise design, price and output, and you have a very popular air compressor for light woodworking applications. While you won't frame a house with the PC1010, it makes a great addition to any garage or basement workshop. Whether you take it on the job each day, or use it for weekend projects, the Senco PC1010 is built to keep your pneumatic finish and trim tools running. That's precisely why we chose it for the Bleed Orange Bundle.

A Tool Of The Future - Grex P650LX: We've reflected on the past, set sail for new land, but what about thinking toward the future. When we started compiling ideas for a forward thinking tool, our minds kept coming back to the Grex P650LX (Replaced by the P650LXE). Much like its siblings at Grex, the P650LX is a 23 gauge pin nailer - but this younger brother comes with some new, industry-leading features. The biggest difference you'll see in the P650LX, it features a one-touch override button to allow use of the 10 remaining reserve pins in the magazine. With an all-around improved design that includes several other innovations, we knew the Grex P650LX had to be our pick for the future.
Two Tools That Represent Our Mission - Paslode Cordless: When you think nail gun, Paslode is where it all began. We couldn't create a "Bleed Orange Bundle" for Nail Gun Depot without bringing in one of the most influential brands in the fastening industry - not to mention a brand that shares our awesome color scheme - Paslode. The Paslode CF325-Li cordless framing nailer (replaced by

Paslode CF325XP - 905600

), and the

Paslode IM250A-Li cordless finish nailer

are two tools that represent our mission from every aspect, as industry icons for innovation, performance and value. With roots in the power fastening industry just about as deep as they go, Paslode has earned its spot as the grand prize in our Bleed Orange Bundle.
Striving for another 15 years of service to the construction supply industry, we thank each member of the Nail Gun Depot family for helping us become who we are today. Whether you've bought a tool, browsed our site, or subscribed to the Nail Gun Network, we welcome you to the Nail Gun Depot family - where customer satisfaction comes first.
~ The Nail Gun Depot Team