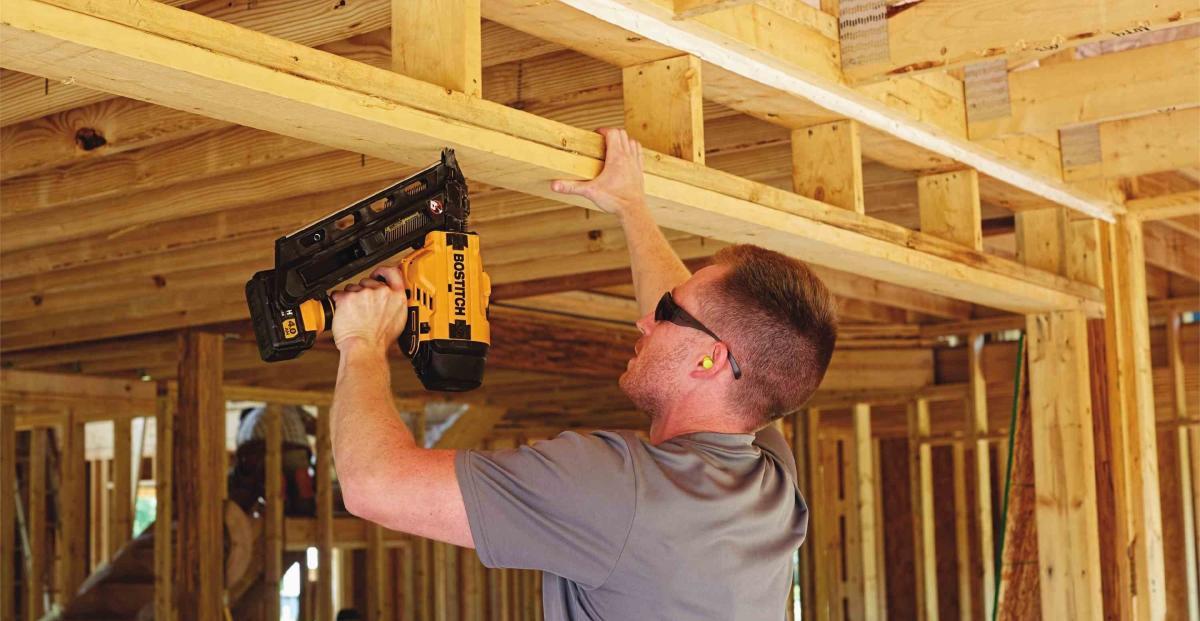 Bostitch has something new, and they're pretty "amped" up about it. For a brand that's had its share of gas-powered cordless construction tools over the years, Stanley Bostitch has finally adopted the latest – and greatest – in cordless nailing technology. For the first time, they've brought lithium ion power to their nail guns. Here's your first look at their new lineup:
•    Bostitch BCF28WWM1 20V MAX 28 Degree Wire Weld Framing Nailer Kit
The Bostitch BCF28WWM1 is one of two new framing nailer kits from the brand. Powered by a 20V high-capacity 4.0Ah Li-Ion battery, and delivering enough power to drive 28 degree wire strip framing nails, this cordless framing gun is ready for everything. Its battery, in tandem with a brushless motor, allows the BCF28WWM1 to run cooler; improving efficiency and reducing wear and tear. Tool-free depth adjustment allows for precision nail placement, making this Bostitch nailer perfect for framing, sheathing, fencing, deck building and other similar applications. Easily adjust between bump and sequential firing modes with the BCF28WWM1; and rest assured that jam clearance is a breeze. The BCF28WWM1 kit comes complete with a BCF204 Li-Ion battery, BCB115 charger and kit storage bag. As with the other cordless nailers below, Bostitch offers a three-year limited warranty on the tool.
•    Bostitch BCF30PTM1 20V MAX 30 Degree Paper Tape Framing Nailer Kit
The second of two new cordless framing nailer kits, the Bostitch BCF30PTM1 remains nearly identical to its counterpart, the BCF28WWM1. Besides accepting paper collated framing nails, the versatile BCF30PTM1 too comes with a BCF204 4.0Ah high-capacity Li-Ion battery, BCB115 charger and kit bag. Feeling déjà vu? Compare this Bostitch paper strip framing nailer to the Dewalt DCN692M1 cordless framing nailer kit.
•    Bostitch BCN680D1 20V MAX 18 Gauge Brad Nailer Kit
In addition to the framing guns, Bostitch's new line-up also includes several smaller body finish guns, including a brad nailer kit – the BCN680D1. The 2.0Ah Li-Ion battery, included in the kit, powers a brushless motor in the BCN680, driving 18 gauge brad nails from 5/8" to 2-1/8" in length. Easily countersink nails for tasks installing decorative moldings, door and window casing, staircases and shoe molding – among other projects in finish and trim woodworking. The BCN680D1 also has some serious accuracy, thanks to the brad nailer's micro nose. Meanwhile, to prevent dry-fire and unwanted surface markings, the BCN680D1 features low-nail lockout. Standard features include a tool-free stall release and tool-free jam release, selectable actuation modes, multifunctional LED lights, and an adjustable belt hook. With the kit, you'll find a BCB203 battery, BCB115 charger and storage bag. Save time and money with this battery-only lithium ion brad nailer, when compared to the recurring expense of gas fuel canisters – not to mention the ramp up time required during use.
•    Bostitch BCN662D1 20V MAX 16 Gauge Straight Finish Nailer Kit
Last, but not least, Bostitch plugged two new cordless finish nailers into their lineup. We'll start with the BCN662D1, their 16 gauge battery-only model. The Bostitch BCN662D1 is identical in every way to its 15 gauge BCN650D1 counterpart, with one exception, the tool runs 16 gauge straight finish nails instead. The BCN662D1 cordless finish nailer kit comes with BCB203 2.0Ah high-capacity Li-Ion battery, BCB115 battery charger and kit bag for storage.
•    Bostitch BCN650D1 20V MAX 15 Gauge Angled Finish Nailer Kit
Likewise, the BCN650D1 ditches the need for air compressors, air hoses and fuel cells – running exclusively on battery power. Drive 15 gauge "FN" angled finish nails from 1-1/4" to 2-1/2" with ease. A micro nose frees the user's line of sight, ensuring precision nailing with every drive. Meanwhile, an inline magazine, set at 25 degrees, allows the user to get into tight spaces; all while the BCN650's brushless motor keeps the tool running smooth. Quickly switching between bump and sequential firing modes is no hassle either. We find this 15 gauge Bostitch cordless finish nailer excels when used for applications including crown molding, baseboards, hardwood flooring, door and window casing, and more. Other standard features of the BCN650D1 include tool-free depth adjustment, a no-mar pad, multifunctional LED lights (indicating battery life, stalls, and work space illumination), and an adjustable belt hook. Along with a three-year limited warranty, this Bostitch finish nailer kit comes with BCB203 2.0Ah Li-Ion battery, BCB115 charger and bag.
Stanley Bostitch is offering most of these kits in limited-quantities during launch. Look for regular availability sometime around Thanksgiving 2017. Pricing varies depending on the model, and can be found on Nail Gun Depot. Just like Dewalt, look for bare, tool-only models to follow shortly after.
With the introduction of these impressive cordless nailers from Bostitch, it leaves us wondering, which will be the right one for you?
~ The Nail Gun Depot Team