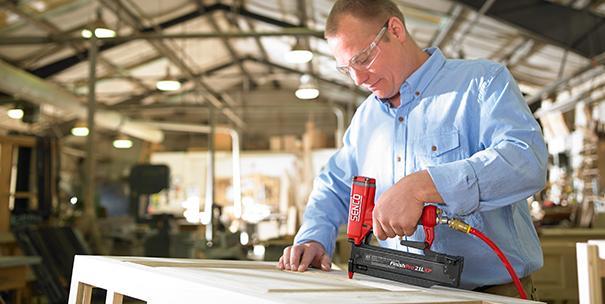 The Nail Gun Network proudly presents the following guest post, adapted from Senco's "Pro Tips" Blog.
Comparing Brad Nailers and Pinners: 18, 21 and 23 Gauge
There's a lot to consider when choosing the right nailer for your job. The differences between an 18, 21 or 23-gauge system may seem slight, but can make or break your project.
Finish and Trim Applications
For finish and trim applications, the standard tool has been the 18-gauge pneumatic nailer. Its nails are more narrow than 15 or 16-gauge variations, and as a result, they are less likely to split narrow trim and molding.
Delicate Moldings and Pre-Finished Crown
When it comes to delicate moldings or pre-finished trim, pros will often switch to a 23-gauge pin nailer. In these applications, an 18-gauge has the tendency to split the wood, especially hardwoods, or leave unsightly marks. On the other hand, headless or slight-head 23-gauge pins are extremely thin and nearly invisible, eliminating the concern for splitting and damage.
It is important to note, in some cases, 23-gauge pins may not have the holding strength required for a solid connection, and an adhesive may be necessary to assist with permanent placement.
Things to Consider
While an examination of height, weight, length and magazine size of the respective nailers will reveal more similarities than differences, there are other factors to consider when choosing the most appropriate tool.
The 18-Gauge
The 18-gauge brad nailer offers the most versatility across multiple applications, and is a cost-competitive option. Plus, the widespread availability of 18-gauge brads is a plus. But, there are a few drawbacks to consider. Since it requires the nose piece to be depressed for actuation, an 18-gauge brad nailer can leave a dent in softer wood. The thicker head of an 18-gauge nail can also mean more touch-up work, and because it's the largest of the three, working with an 18-gauge nailer in tight corners can be a challenge.
The 21-Gauge
When compared to the 18-gauge, a 21-gauge pinner is more expensive, provides less columnar strength, and fastener lengths are much more limited. However, a 21-gauge pinner is over a third smaller. It leaves a much smaller indent than an 18-gauge brad, improving aesthetics. Plus, it's more compact and lightweight, is easier to maneuver in tight spaces, and its ultra-thin nose improves line of sight. For example – if your project involves MDF, and an 18-gauge is just too much firing power, consider the 21 gauge pinner.
Compared to a 23-gauge pin, a 21-gauge fastener provides better shear strength and more holding power. But, it's about 10% bigger.
The 23-Gauge
A 23-gauge micro-pinner, such as the Senco 23LXP, eliminates almost any need for touch up finishing. But, 23-gauge headless pins are not structural, and due to the reduced holding power, adhesive may be necessary to create a permanent bond. Don't let this scare you, 23-gauge pin nailers are imperative to anyone dealing with trim woodwork.
Need some extra advice? Nail Gun Depot's expert customer service team is happy to help!
~The Team At Nail Gun Depot