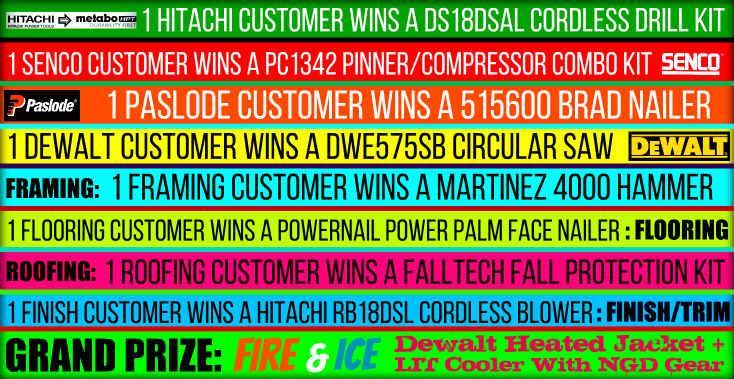 Wouldn't it be nice to score a Free Tool when you shop Nail Gun Depot from November 23 – November 26? Coupled with our Cyber Weekend sale, there's even more to be thankful for!
Purchase any item from the following categories for a chance to win! Prizes are detailed below.
Cyber Weekend Giveaway Details:
All orders must be placed between November 23 and November 26. An order number in the specified category/brand counts as an entry. Winners will be featured on Nail Gun Depot's Facebook page and/or Nail Gun Network.
Grand Prize:
A LiT brand LED-light cooler AND Dewalt heated jacket, PLUS Nail Gun Depot swag. 
Hitachi/Metabo HPT
Buy any Hitachi/Metabo HPT item for a chance to win a FREE Hitachi DS18DSAL 18V Li-Ion Compact Pro Cordless Drill W/ Flashlight - A compact yet hardworking drill and its bright companion.
Senco
Get any Senco item for a chance to win a FREE Senco PC1342 23-Gauge Micro Pinner Kit - A micro-pin nailer and a compressor combo; a winning team for a pro-looking finish.
Paslode
Order any Paslode item for a chance to win a FREE Paslode 515600 Brad Nailer - A perfect combination of reliability and versatility engineered into the same tool.
Dewalt
Purchase any Dewalt item for a chance to win a FREE Dewalt DWE575SB 7-1/4" Lightweight Circular Saw - Boasting a 15 Amp motor and weighing just 8.8 lbs, it's a lightweight powerhouse.
Framing
Order any framing nailer for a chance to win a FREE Martinez 4000 Wood Handle Hammer -  Sporting a 19 oz. steel head and curved hickory handle, this hammer packs some punch.
Flooring
Get any flooring nailer or stapler for a chance to win a FREE Powernail Power Palm Face Nailer - With a specially designed nose, magnetic nail holder and 160-degree swivel, it's a well-rounded tool.
Roofing
Purchase any roofing tool for a chance to win a FREE FallTech 8595A Roofer's Kit - A five-piece set that gives peace-of-mind; includes harness, vertical lifeline, shock absorbing lanyard, and roof anchor.
Finishing
Buy any finish/trim gun for a chance to win a FREE Hitachi RB18DSL 18V Cordless Blower and Li-Ion Battery - A great light-duty  tool for clearing debris and wood shavings from your work surface.
Good Luck! And Happy Thanksgiving to All!
~ The Nail Gun Depot Team