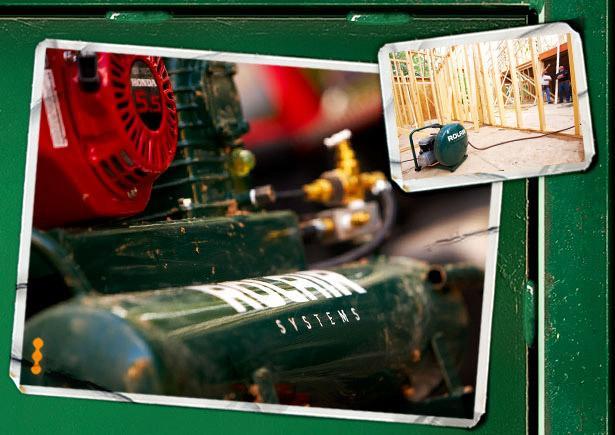 Rounding out our series on Made In America, let's take a look at a brand that has more than 50 years of experience in the air compressor business - still assembled in the USA today. That's right, we're talking about RolAir compressors, the green, American made machine. Take a look at the history of RolAir, and watch the attached video of RolAir's manufacturing process, on the Nail Gun Network.
The following is a brief history, taken directly from RolAir's corporate website:
"The year was 1959. Our goal was simple: Produce the finest compressors known to mankind. Decades later, the goal remains the same. As a third-generation manufacturer located in the heart of Wisconsin, we've built quite a reputation for providing professional contractors with compressors of the utmost quality and craftsmanship. They appreciate our attention to detail, rugged performance and wide variety of options. But above all, they appreciate that our sole focus is compressors - nothing else.
If you're looking to partner with a company built on decades of industry knowledge, experience and unparalleled customer service, welcome to RolAir."
Watch this time lapse video of RolAir's 4090HK17 in production - hand assembled in the USA.
RolAir offers a variety of air compressors for pneumatic tools, such as nail guns, staple guns and other air-powered tools. Choose between hand carry and wheeled air compressors, with gas or electric motors available. Shop wise and make sure you don't "blow" your next air compressor purchase.
~ The Nail Gun Depot Team