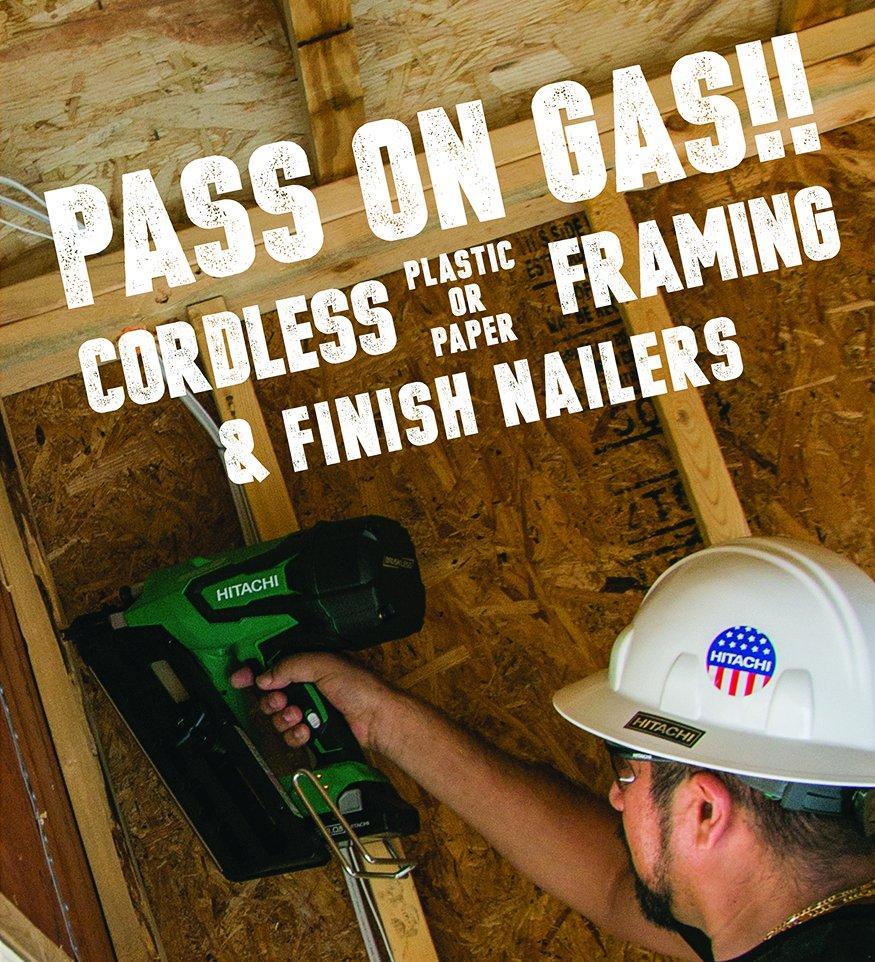 Light-years ahead of the old Impulse tools from the 1990's, cordless nailing is now one of the hottest topics in construction. Efficiency concern - and in some cases questionable reliability - has kept many contractors from making the switch from air-power to battery-power, until now. Advancements in battery capacity and lithium ion technology, paired with better overall performance and durability, can be credited for the growing demand of cordless tools. With at least three leading brands ready to compete, and several others closing in on the competition, who's top dog when it comes to cordless framing guns?
The new kids on the block, Hitachi's new NR1890DR (plastic collated) and NR1890DC (paper collated) cordless framing nailers are ready to rattle cages with the longstanding cordless competition at Paslode and Dewalt.
Using Hitachi Power Tools' all-new 18 volt brushless motor and Air Spring Drive System, both of these cordless nailers eliminate the need for air hose and air compressor. And, while the same can be said about comparable contenders from Paslode and Dewalt, Hitachi's lithium ion system also eliminates the use of gas fuel cartridges - a benefit not currently available with Paslode cordless nailers.
Built from the underpinnings of Hitachi's high-quality pneumatic nail guns, the Hitachi 18V framing nailer is designed to handle like an air nailer, yet capable of delivering more than enough power to flush drive 3-1/2" framing nails with ease. This, in part, is thanks to Hitachi's Air Spring Drive System, which uses permanently sealed compressed air to drive each nail - resulting in zero ramp up time, and driving speeds up to 2 nails per second. The list of standard features on each Hitachi NR1890 cordless framing nailer includes a tool-free depth of drive adjustment, selective actuation button, on-tool battery indicator, integrated pivoting rafter hook, and a side lock switch to prevent accidental firing.
Powered by Hitachi's BSL1830C compact 3.0Ah battery, these cordless framing nailers can drive up to 400 nails per charge. Each NR1890 nailer comes with a lifetime manufacturer's warranty on the tool itself, as well as Hitachi's 2-year battery guarantee, and 1-year warranty on the charger. In addition to the tool, you'll find a BSL1830C Li-Ion battery (339782), UC18YFSL fast charger, contractor bag and safety glasses in the box.
So, how does the Hitachi NR1890 really stack up against its competition?
For the sake of fairness, we can't really compare the NR1890DR to Paslode or Dewalt, since neither brand offers a cordless plastic strip framing nailer currently.
However, when it comes to paper tape nailers, the Hitachi NR1890DC can definitely hold its own against the Paslode CF325XP (905600), and the Dewalt DCN692M1. Hitachi's instant advantage over Paslode, the NR1890DC requires no compressed gas fuel for operation - meaning the end user can operate independently of costly fuel cells; and without the need for compressed gas, there's no delay in firing due to ramp up. A huge benefit for productivity and efficiency.
When we tested the Hitachi, we immediately noticed two things: the nailer is extremely fast - even compared to the Dewalt DCN692 - but can feel a little cumbersome after an extended period of time.
The biggest disadvantage to the Hitachi is its weight, which weighing in at 10 pounds with battery, is a pound heavier than the Dewalt DCN692, and three pounds heavier than the Paslode CF325XP. While a slightly heavier tool may pose issue to some, we're confident improved productivity and efficiency will more than make up for weight related concerns in the big scheme of things.
When it comes to long-term build quality, we haven't had enough time with the Hitachi NR1890 to make any concrete claims, but with a lifetime manufacturer's warranty on the tool itself (excludes battery), neither Paslode nor Dewalt come close in comparison.
Will you stick with the tried and tested Paslode, or give Hitachi's new kids on the block a shot?
~ The Nail Gun Depot Team