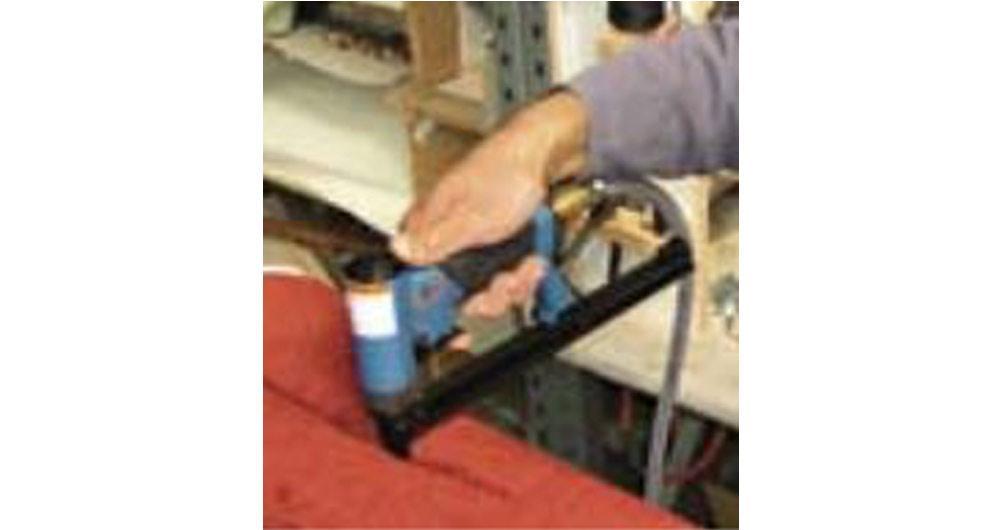 Remodeling a chair or piece of furniture? If you work with - or are planning to do upholstery work - you will want to find an upholstery stapler that properly suits your needs. To the novice, you will want to select your staple gun based on its specific application. Upholstery staplers are designed for applications that range from industrial use to amateur fabric work. Finding the right one for you can be easy - if you know what to look for.
For those just getting into upholstering, you will probably want to select your stapler based on the application you are intending to use it for. First, you will need to measure the material you are working with, to determine the gauge (thickness), crown (width) and leg (length) of the staple necessary for your project. Once you know the gauge of staple needed, you can find the appropriate stapler - you will also see that a variety of brands are available to choose from including Senco, BeA, Duo-Fast, Spotnails, Grex and more.
Depending on the thickness of material, you will probably choose between a 20-gauge or 22-gauge upholstery stapler. Next you will need to decide whether you want a pneumatic (air-powered) tool or an electric tool. If you do not have an air compressor, an electric tool will bypass the need for one - however, pneumatic upholstery staplers are typically less expensive. 
Once you've gained some additional experience, you might want to upgrade to a long nose upholstery stapler. The extended nose on these staple guns allows them to reach into tighter spaces.  Long nose upholstery staplers are typically used for more skilled projects, projects that require a higher level of intricacy. If you are sticking to small, simple upholstery work, using a regular nose upholstery stapler should yield the necessary results for your project. 
For more help deciding on the right upholstery stapler, check out the ModHomeEc writers' review of upholstery staplers.
~ The Nail Gun Depot Team