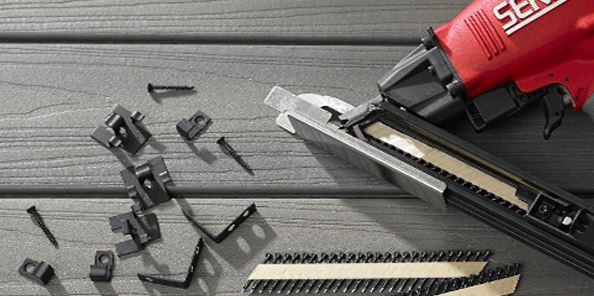 It's finally time to shed the winter layers and get back outside. For many, the start of May means the start to decking season - and depending on Winter's wear and tear, that might also mean it's time to give your deck some much needed TLC. If you're considering upgrading your deck, there's a new product on the market you don't want to miss - Senco's Mantis hidden deck clip system.
A relatively new concept to the deck building industry, hidden fastening systems are leading an increasingly popular trend in decking. The new Senco-Mantis system is no exception.
Senco's system can be utilized in two ways, either by driving individual screws into their respective Mantis deck clip using the SG2510 electric screwdriver, or by using the all-new SHD150XP (9D0001N) collated nailer, which drives 1-1/2" collated reversible fasteners into the Mantis hidden deck clip.
Designed for use with composite, PVC and other grooved deck boards, Senco's hidden deck fasteners employ a three-clip system. A starter clip is used to get the first board locked into place, which then allows the Mantis clip to secure all remaining boards into position. When reaching the final board, finishing clips complete the installation.
For those that opt to use the collated fasteners, the Senco SHD150XP looks like most other paper tape nailers, but is designed specifically for use with this Senco deck clip system. A patented EZ slide attachment will guide and align the Mantis deck clips into their proper place. When compared to conventional installation equipment, the SHD150XP is easier to handle - and improves productivity up to 80 percent. This pneumatic decking gun also features an industrial strength magnet to keep the deck clip in place, dry-fire lockout, sequential actuation, tool-free adjustable exhaust reflector and adjustable rafter hook. Bundle that with a five-year limited warranty to keep your tool on the job.
Watch a quick demo video on Senco's Mantis hidden deck system by clicking here.
So, do you think hidden decking systems are the future? Let us know your thoughts in the comment feed below!
~The Nail Gun DepotTeam