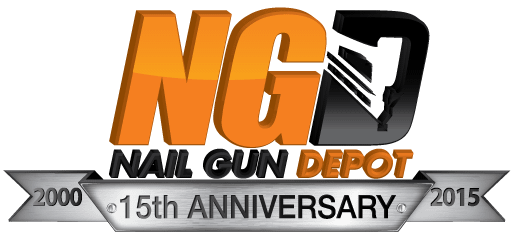 It's hard to believe, but did you realize Nail Gun Depot has been around for 15 years? Launched in 2000, the site has played its part in the explosion of the Internet and e-commerce - surviving several events that have shaped the world we live in today. The NGD site we have come to know has lived through several refreshes and reconfigurations, the addition of new tools and technology, and the demise of outdated products. With annual visitors in the millions, Nail Gun Depot offers one of the largest, most comprehensive collections of fastening products available. From
nailers
to
staplers
,
screw guns
and
fasteners
, we've got something for every application. Don't take our word, see it for yourself!
Did you know Nail Gun Depot isn't just an e-commerce site, it's an information database? Choose from several resources to help pair the correct tool or fastener with your application. For example, the Fastener Finder feature on Nail Gun Depot let's you choose your tool - searching the site and matching your query with the appropriate fasteners. Need a bit more? Visit the Nail Gun Network blog and content database for how-to projects, tool news, maintenance tips, and virtually everything else you need to know about power fastening tools.
But wait, there's more! Without loyal customers, Nail Gun Depot would be nothing. We want to take a second (or year) to thank all of our customers and visitors, whether you have purchased from us once - or visit the site weekly - thank you for your continued support. To remain one of the best in customer service, we are excited to announce a refreshed, mobile-friendly Nail Gun Depot is on its way. Look for the new Nail Gun Depot to launch later in 2015. Other initiatives on the way include a 15th Anniversary Giveaway - featuring Nail Gun Depot's "Bleed Orange Bundle" - as well as several other smaller giveaways and promotions throughout 2015 to thank our customers for 15 years in business. Look for a more extensive, larger Nail Gun Network too!
It's customers like you that keep Nail Gun Depot alive and growing - so thank you again from the entire staff at Nail Gun Depot.
~ The Nail Gun Depot Team