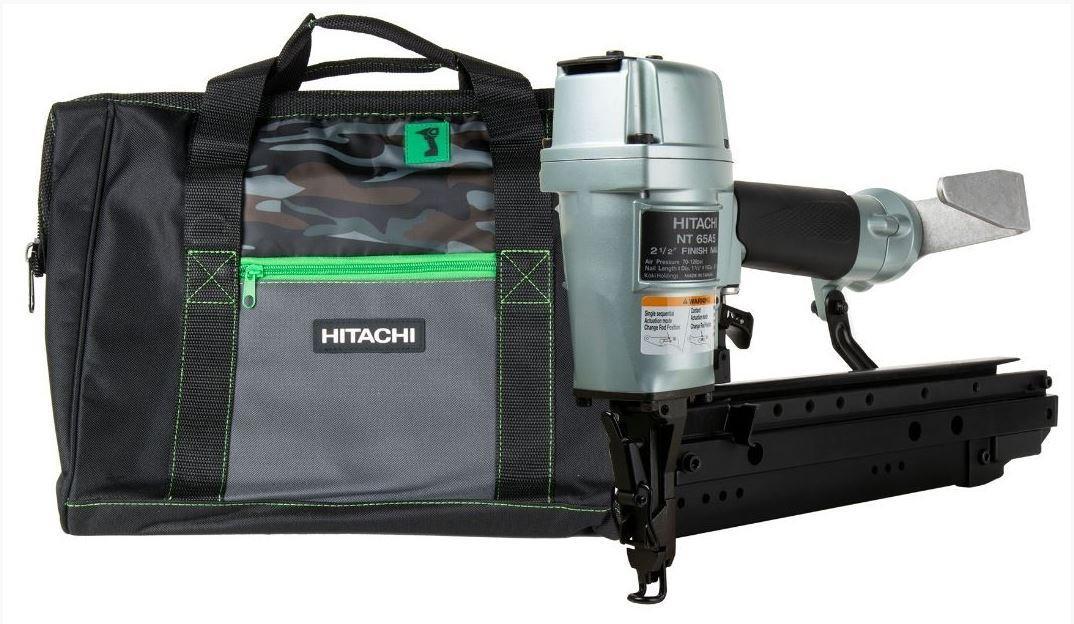 A finish nailer is versatile, tackling projects in trim work, cabinets, casing, crown molding, and even furniture assembly. Meeting demands of the modern carpenter, Senco brings renewed brawn and fine-tuning to its latest finish nailer. Meanwhile, Hitachi looks to past favorites as inspiration for its new PRO series finishing nailers. Here's a closer look.
Tougher on Materials
Senco's new 2-1/2" FinishPro 16XP gets leaner and meaner, and attempts to eliminate fastener jams. It improves upon and replaces the Senco FinishPro32 Nailer, now discontinued. Like the previous version, the FinishPro 16XP is sturdy yet lightweight at 4 lbs., firing 16-gauge brad nails from 1-1/4" to 2-1/2".
So what's the news on this updated model? An upgraded firing system is the most notable feature. Acknowledging a change in the industry to using harder, denser materials, Senco equipped the 16XP with a piston and driver upgrade. Coupled with a new magazine feed system, the finish nailer more reliably delivers fasteners, then more thoroughly and consistently drives them into tough pro-grade materials.
Finer Firing
Accuracy is another improvement, thanks to improved sight lines. A stamped steel spring on their EZ-Clear latch system means a slimmer, more robust latch. Now there's a tighter hold on the drive track, resulting in greater control and pin-point accuracy when firing, even in hard-to-reach areas. The revised latch design virtually prevents jams and makes quick work of clearing any that occur.
There's also selectable actuation on the tool, letting you easily switch from bump fire to sequential firing modes. Another nice quality is an integrated push-button air blower to clear away debris. Senco extends durability to the overall appearance as well, with a powder coat finish and a cast-in logo. The tool comes with storage case, tool oil, wrench, no-mar pad and plug, all backed by the company's 5-year limited warranty. Check out the product video here to see it in action.

Hitachi Looks Back, Moves Ahead
Enthusiasts of Hitachi (soon to be Metabo HPT) are already aware that the A5 Series recaptures some features of their beloved classics. Additions to the new line incorporate aspects like the prized motors in their original models, as well as fewer moving parts, and simpler maintenance.
NT65A5 PRO Finish Nailer
Those who remember the original NT65A3 will be happy to find the new NT65A5 16-Gauge PRO Finish Nailer uses the same motor. So, what was worth saving from the A3 model? A cylinder valve system, which gives the new model "the quickest response and the fastest driving speed of any 16-gauge finish nailer," says Hitachi. The NT65A5's cylinder valve system is "unmatched," they add. That's quite a statement.
The tool features a light, 4.9 lb. body (without the industrial-grade aluminum hook) and fires 1-1/2" to 2-1/2" straight finish nails. A high-capacity magazine on the NT65A5 holds three strips of nails, meaning there will be fewer pauses to re-load. A sturdier, high-grade aluminum magazine also helps those fasteners fire smoothly.
Should a jam occur, the NT65A5's quick-clear nose provides easier access to fasteners. Other features on the NT65A5 include selectable actuation, a 360° adjustable aluminum hook, safety glasses, a no-mar tip, and a canvas tool bag.
NT50A5 2" PRO Brad Nailer
Just as its sibling above, the NT50A5 2" PRO Brad Nailer is part of the A5 series. This new 18-gauge nail gun fires brad nails from 5/8" to 2". It also asserts an improved air flow between the head valve and cylinder, giving it more muscle and greater efficiency over the NT50AE2, Hitachi's price-point oriented brad gun. Users can expect a 30% power increase in this small but mighty tool.
In its compact 2.9 lb. body, the NT50A5 delivers well-balanced handling, selectable actuation, a sturdy aluminum magazine, and a safety that's set behind the nose for easier access to tight corners. Other features include a 360° adjustable exhaust, rubber grip, ambidextrous belt hook, auto dry-fire lockout, and an integrated air duster. The tool comes with the no-mar tip, tool bag and safety glasses. As with other Hitachi tools, it's backed by a 5-year warranty.
So, which will find its way into your air tool arsenal? Just contact our Customer Service team to learn more.
~ The Nail Gun Depot Team