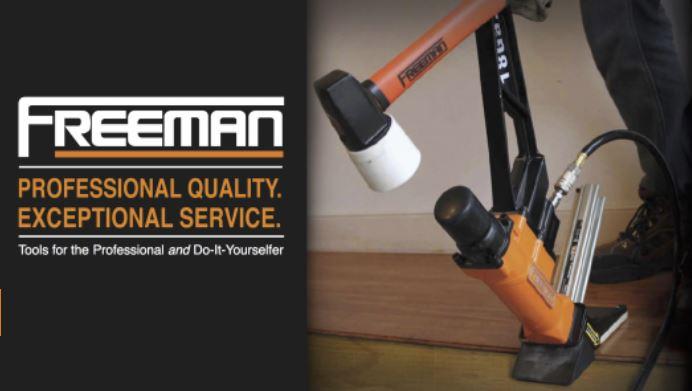 Nail Gun Depot is excited to announce a slew of new additions to our Freeman tools lineup! Founded in 2008, the Georgia-based company is known for dependable, affordable tools for the professional and DIYer. In fact, their prices tend to cost 20-50% less than other well-known brands, with comparable features.
The most notable additions to our Freeman tools selection are flooring nailers and fencing staplers, many with dual (or even triple) functions. Of course, we'd be remiss to not mention the two new framing nailers, a concrete T-nailer, and two finishing nailer/staplers. Let's review what's new-to-us from Freeman.
Freeman Fence Staplers
For smaller fencing tasks, we've added two staplers to our Freeman selection—the 16-gauge PFS16 fencing stapler (pictured above) and the 18-gauge PFS18 fencing stapler. These pneumatic fence staplers are designed for mesh and woven fences, electrified single-wire installations, garden trellises, anti-predator barriers, and animal or pet enclosures.
The air-powered fencing staplers drive barbed, divergent-point staples. The 16-gauge stapler drives 3/4" to 1" staples, and the 18-gauge (which weighs less than 3 lbs.), drives 3/8" to 7/8" staples. Both tools feature tool-free finger depth adjustment, 360º adjustable exhaust, and durable, easy-load aluminum magazines.

Freeman Flooring Nailers/Staplers
We have three new flooring tools to introduce to our lineup. First, there's the 3-in-1 PF1618GLCN flooring nailer, invaluable if you frequently switch between flooring fasteners. Ideal for maple, oak, and bamboo flooring, it includes three interchangeable baseplates, and drives 16- and 18-ga. L-cleats, as well as 16-ga. T-cleats.
Next, there's the PF20LM flooring nailer, which drives 20-ga. L-cleats. It's designed for very dense engineered flooring and exotic woods. As you can see in the photo above, this nailer has a dual handle, letting you comfortably install flooring while either standing or kneeling. Both Freeman flooring nailers include fiberglass mallets and anti-dust caps.
The 3-in-1 PFL618C flooring nailer and stapler is a versatile contender. The triple-duty tool boasts an extended handle to prevent back pain. Great for solid tongue-and-groove hardwood flooring, this tool drives 15-1/2-ga. flooring staples, 16-ga. L-cleats, and 16-ga. T-cleats. This combination flooring tool includes a rubber-tipped, wood-handled mallet.
Convert any of the above flooring nailers into a smoothly gliding operator with the Freeman PFNRB rolling flooring base. The rolling base (which works with several other Freeman flooring tools, as well as some NuMax models) has a non-marring design and non-slip wheels for an easier installation that won't damage floors.
Freeman Framing Nailers
Whether your job requires a 20- or 34-degree magazine, we've got a Freeman framing nail gun to suit. The compact G22183CLW 21-degree framing nailer is so lightweight, Freeman calls it "the lightest framing nailer on the market". It has a 360º swivel fitting and adjustable belt hook, and drives full-head nails from 2" to 3-1/4".
Then there's the PFR3490 34-degree framing nailer (shown above), tough enough for framing, subfloors, roof decking and wood fencing. This clipped-head nailer has an aluminum magazine, one-piece driver blade and 360º adjustable exhaust. Both tools have anti-dust caps, tool-free depth adjust, and selectable firing.
Freeman Tools Coming Soon
For fastening wood and steel to concrete, we'll soon be offering the PCTN64 14-gauge T-nailer, with all the power you'd expect to drive nails into concrete. What you might not expect is the price—half the cost of most concrete nailers.
For finishing tasks, the cordless combination 20V PE20V2118G and PE4118GF nailer/staplers will also be available soon. The latter has a removable 45º attachment to switch from flooring to finishing jobs. Both finishing tools feature built-in LED working lights and selectable firing. The best part? No compressor required.
Finally, you can stash your new Freeman tools in the handy Heavy-Duty Tool Bag (FTBC01; above). Already available at Nail Gun Depot, the 22" tool bag's 6 pockets, gripped feet, and padded strap make it much easier to haul your tools. Making it easier on the wallet? The fact that it's under $50.
See the full range of these—and other—Freeman tools on our website. And be sure to check back as we add more!
---
Shop Nail Gun Depot: