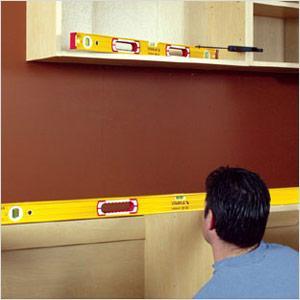 New on Nail Gun Depot, have you seen our selection of Stabila construction levels and laser levels? Don't trust your next project to a good guess, get the accuracy only a level can provide. Choose from a wide variety of levels and lasers, including a full selection of spirit levels, mason levels, magnetic levels, plate levels, pocket levels, torpedo levels, exact length levels, electronic levels and more. Tripods, repair kits and other

accessory items

are also now available.
Let's take a quick look at what each type of level does:
Spirit Level: Spirit levels fill the broadest range of what can be defined as a construction level or measuring level. Speaking in the most general terms, a spirit level is a measuring device that can determine an exact measurement of levelness based on the placement of an air pocket within a horizontal (level) and/or a vertical (plumb) vial. Most levels are technically spirit levels. You'll generally see levels categorized on Nail Gun Depot as spirit levels if they don't fill another niche application.
Fun Fact: Spirit levels were created by a French inventor and have been around since the Mid-1600's.
Plate Level

: Plate levels are also spirit levels, but they are designed specifically to measure the degree of levelness at wall plates.
This type of construction level is intended for those that do wall framing or work with structural framing. The Stabila plate level(s) we offer feature extendable bodies that can nearly double in length.
A reinforced frame allows these plate levels to easily measure plate to plate wall height for either commercial or residential applications.
Torpedo Level: On the other end of the spectrum, torpedo levels are much more compact, designed for applications in carpentry or anywhere else a compact spirit level is required.
Stabila also offers magnetic torpedo levels, providing a superior grip
on pipes, conduit, posts or any other metal surface that is magnetic.
Torpedo levels are an excellent option for anyone who wants a compact spirit level to use around the house or shop.
Pocket Level

: Similar to torpedo levels, pocket levels are designed to be small enough that you can simply stuff them into your pocket. While a pocket level isn't nearly as rugged or durable as some of the other level types listed in this article, contractors are attracted to the simplicity and portability of these nifty little gadgets.
Pocket levels are more of an accessory item for a general contractor or carpenter; something they can keep in their pocket and easily transport from job to job.
Mason Level: Mason levels are designed for bricklaying or similar applications.
With a reinforced frame, strike zones designed specifically for being hit with a trowel, an easy to clean body (for removing mortar), and
much more, Stabila mason levels are extra rugged, yet equally as versatile.
Magnetic Level: We've briefly touched on the capabilities of a magnetic level already, but just to reiterate, these levels are mostly designed for applications where you need to measure the degree of levelness
for a surface that is made of magnetic metal.
This applies to steel framing - among other uses.
Stabila magnetic levels are capable of adhering to a magnetic surface upside down, designed for hands-free capability.

Exact Length Level: Exact length levels are similar to plate levels, and are part of the spirit level family, but are designed specifically for door and window installation.
Stabila XtL exact length levels cover more than 80% of all door and window installations.
Stabila XtL expands and locks to the exact size needed for any project. Two Stabila XtL levels cover the same range as the 5-6 level sets normally carried by door and window installers.
Consider exact length models a big level in a small package.

Electronic Level

: Electronic levels are designed for tech savvy contractors.
Featuring electronic measuring technology, two digital displays, an audible inclination guide, and a dust/waterproof body, Stabila electronic levels are the way of the future. Between fast, accurate readings - and the ability to instantly convert measurements - who wouldn't want an electronic level? Just keep in mind, these are not the least expensive option available - but they do offer unique benefits that
can't be found on any other type of construction level.
Laser Level: Laser measuring instruments, also known as laser levels, are the answer to an ever changing construction industry, where
materials, assembly systems, the interaction of the various trades, time and cost pressures are constantly on the move.
Laser levels do the same job as their spirit level counterpart, the fundamental difference being, laser levels project a non-permanent laser beam of light onto a surface in a perfectly level formation. Depending on the intensity of the laser beam, the direction(s) it is required to display, and other
unique
characteristics
, prices on these nifty
devices can range from a couple hundred dollars, all the way into the thousands.
~ The Nail Gun Depot Team