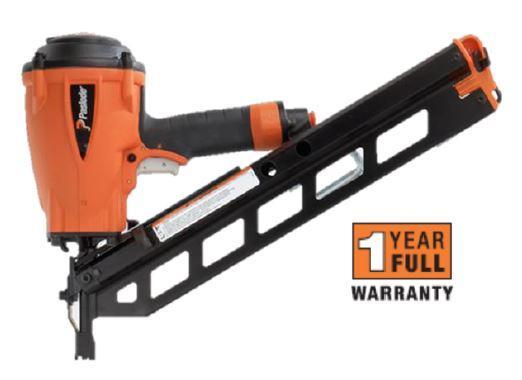 While we've been busy talking about spring projects, some of our favorite brands have been updating their lineup of nailers, staplers and fastening tools. Part of Nail Gun Depot's commitment to serving the latest tools and technology to our customers, we are excited to announce the following new and updated products that are now available to NGD customers.
If you've been working in the construction trade for some time, you have most likely used a Paslode tool at some point. For those who are true to the brand, you'll be excited to hear Paslode is commemorating their 50th Anniversary of service to the construction and building industry in a very special way. To celebrate, Paslode will now offer a Special Edition 50th Anniversary Framing Nailer (511990); it's a beefed up version of the F-350S Framing Nailer. You'll notice it is sporting an all-new, Paslode orange color scheme. The 50th Anniversary Framing Nailer joins the reliability and durability of the Paslode brand, paired with the manufacturer's unique brand characteristics. (Update: The 511990 has since been replaced by Paslode F-350P PowerMaster Pro Framing Nailer)
Another important manufacturer with a rich history in construction and renovation, Senco has just announced the release of its all-new Finish Pro 21LXP Pin Nailer. The 21LXP is designed to fill the gap between 18 gauge brad nailers and 23 gauge pin nailers - capable of driving 5/8" to 2" 21 gauge headed pins and 21 gauge headless pins. The FinishPro 21LXP also features automatic magazine adjustment for different fastener lengths, reversible belt hook, rear exhaust with embedded muffler, comfort grip handle, ultra-narrow nose, on board storage for extra no-mar pad and jam clearing wrench, and last-nail-lockout to prevent dry firing. If you are interested in this pin nailer, you can pre-order it on Nail Gun Depot and be one of the first to own this all-new tool. This item will release to the public around May 2014.
Last but not least, we are expanding our selection of hog ring tools and "C" ring fasteners. In addition to our selection of BeA hog ring pliers, we will be expanding our inventory to include a variety of Bostitch hog ring tools and fasteners. These handy tools can assist on a variety of projects, from attaching automotive upholstery to fastening wire fencing. Stay tuned to Nail Gun Depot as we continue to expand our lineup.
~ The Nail Gun Depot Team