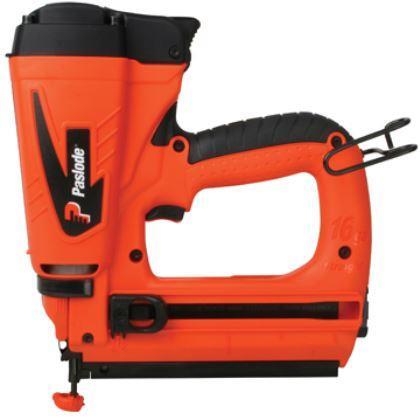 A new way to nail, we're excited to debut Paslode's all-new 16 gauge straight, lithium-ion cordless finish nailer, the IM250S-Li. We'll take you through this brand-new Paslode cordless finish nailer from top to bottom - giving an overview of new features, and letting you know where it stands in Paslode's current lineup. Find out more about Paslode's new cordless finish nailer on the Nail Gun Network.
At this point, you might be wondering why

Paslode

is introducing another 16 gauge Li-Ion cordless finish nailer? After all, the

IM250A-Li

has proven to be wildly successful - which is the exact reason why Paslode decided to introduce a straight magazine model - enter the IM250S-Li. The IM250S-Li shares much of the same technology as its angled counterpart, the IM250A-Li - except for its magazine. Just like the IM250A (902400) replaced the aging 900600, it's anticipated that the introduction of the IM250S (916000) will lead to the eventual replacement of its NiCad battery counterpart, the 902000.
The introduction of lithium-ion battery power has revolutionized the way we use power fastening tools. Nail guns that previously required a heavy-duty air compressor, air hoses, fittings and other accessories, are suddenly available in variations that run without any hoses or cords. With lithium-ion batteries, tools can run longer than previous NiCad models - and other similar variations. Lithium-ion batteries hold a longer charge and offer greater driving power - all while maintaining a smaller footprint with a more compact design. Just remember, most cordless nailers require a fuel cell in addition to their battery, in order to operate.

The Paslode IM250S-Li is no different. This

1

6 gauge straight cordless li-ion finish nailer is designed to drive

16-gauge straight finish nails ranging from 1-1/4" to 2-1/2"

in length; featuring several new upgrades

including a lightweight design, more driving power, up to 50% longer run time, and a 2-Minute quick charge feature that replenishes enough battery power to drive 200 nails. The 916000 can be fully recharged in an hour - and is capable of driving up to 6,000 nails on a full charge. For immediate use, this Paslode cordless finish nailer can hold an 80% charge after a short 20 minutes of being plugged in. Other features on the Paslode IM250S-Li include an enhanced tool-free adjustable depth of drive, no-mar tip, two position lock that conserves run time and offers added battery protection, and an easy to use drop-in fuel system. Comes with rugged carrying case, 7.4V li-ion battery and charger, and a two-year manufacturer's service promise (with proper registration). It does require a Quickload fuel cell and battery to operate.
When it comes to applications, this Paslode cordless finish nailer is excellent for door and window trim, paneling, baseboard, casing,
crown molding, cabinetry, door jambs and more. For quality, utility and durability - the verdict is in, and the Paslode IM250S-Li looks to be an absolute straight shot.