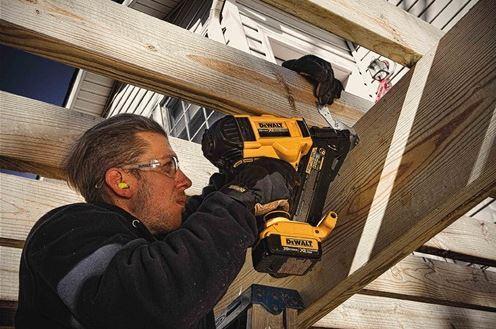 Cordless tools are more common than ever these days, and what's more, they keep improving as manufacturers continue to innovate. You've probably noticed that Lithium-Ion battery power has surpassed NiCad (nickel-cadmium) and NiMH (nickel metal hydride) in cordless tools—and nearly everything else we use. But in cold weather, Li-Ion batteries seem to lose steam. We'll help you preserve power in your cordless tool battery with 6 easy tips.
Benefits of Lithium-Ion Batteries
Lithium-ion batteries have many benefits over their predecessors; they store a larger amount of electricity, have a lower rate of self-discharge, and are more compact/weigh less than other rechargeable batteries. These cordless tool batteries aren't delicate flowers, but they do have more basic requirements for maintaining optimal performance. You may have noticed, for instance, that your Li-Ion-powered tool is a little less forgiving in colder weather.
Batteries are a collection of chemicals and other materials assembled to create a reaction that will then power your tool. And chemicals inside of them can be impacted by extreme situational changes. On the plus side, if you can call it that, Li-Ion is more stressed by extreme heat than extreme cold. Protection circuitry mainly prevents over-heating. but It's up to you to prevent over-cooling.
Here's a fact: When the temp dips below 40°F, Li-Ion batteries don't fully hold a charge. And trying to charge them at that temperature can permanently affect run-time. So, what to do?
How to Preserve a Li-Ion Tool Battery in Cold Weather:
1. Store (and charge) batteries within the temperature range recommended by the tool manufacturer. While you can discharge a tool battery in extreme cold, charging it in freezing temps (32°F or colder) is a no-no. You may not see the damage, that doesn't mean it's not happening inside the battery.
2. If a Li-Ion battery has fallen below 40°F, place it in a room-temperature area for an hour or two and let it warm up. What is room temperature? About 72°F, give or take a few digits.
3. Optimal temps aren't always available job sites. When not using the Li-Ion tool battery in cold weather, remove it and place in a pants pocket to transfer some body heat to the battery. Another option is to use a gel warmer in the tool bag while it's in the work car/truck.
4. Don't let a Li-Ion battery completely discharge before re-charging it. Unlike older battery types, Li-Ion doesn't need to be completely drained/re-charged. Li-Ion batteries suffer from little to no "memory effect," or low-charge capacity when continually charged from a partially charged state.
5. Once you start to feel power lagging, swap out the battery with a spare and recharge the first one. Having a few spare batteries on hand will keep you powered up. Yes, you should have a spare battery. And yes, we sell those at Nail Gun Depot.
6. When it's time to store the battery for an extended period, leave 40% to 50% life in it. This helps keep it stable and keeps the circuit protection operational. Store the battery in a cool (40°F to 60°F), dry area on a plastic or wood (not metal) shelf. 
---
Shop Cordless Tools
cordless nailers, cordless staplers and accessories, and cordless screw guns. 
Shop Batteries