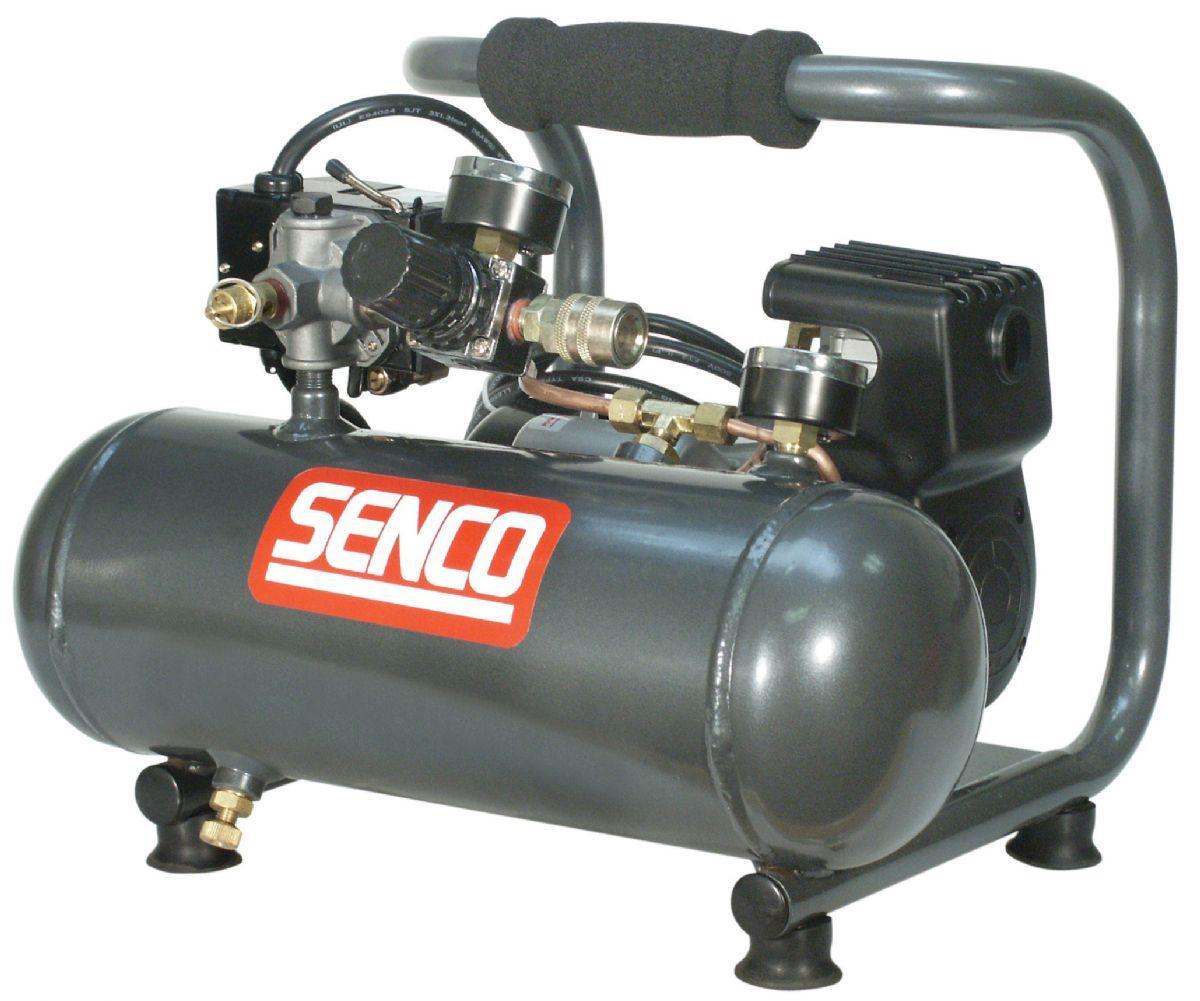 If you're shopping for - or have shopped for an air compressor, you know first-hand there are more than enough options available, offered in a wide variety of shapes, sizes and capabilities. But what constitutes a GOOD air compressor? Sure, there are private label and "value-centric" compressors available, priced to sell, but why not get the benefit of both value - AND quality. A true workhorse, Senco's PC1010 compressor has withstood the test of time, living to tell the story. A solid, well-built and affordable compressor for pneumatic nailers and more, consider the benefits of Senco's PC1010.
Weighing in at a mere 20 pounds, the Senco PC1010
oil-free air compressor features an extremely lightweight and ultra quiet design. With an efficient 1/2 HP motor and one gallon air tank, simply plug in this electric compressor and watch it work. A one-year warranty included, this hand carry compressor also features an electric direct drive motor for increased efficiency, aluminum cylinder, oil-less pump, 1/4" coupler, and cushioned hand grip. Pair the PC1010 with applications such as
finish and trim work, upholstery, hobbies and crafts. Just keep in mind, the PC1010 is designed to power small pneumatic tools, including

finish nailers

, upholstery staplers and

finish staplers

. For larger construction tools, such as

framing nailers

,

roofing nailers

, construction staplers and others, you'll need a larger compressor that is designed for the job.
Don't worry, Senco has a full spectrum of compressors to choose from.
While you won't be framing a house with the PC1010, most finish woodworkers, remodelers and DIY craftsmen find the PC1010 is perfect for what they need. A compressor that is reliable, low noise (68db to be precise), lightweight and portable
, we doubt you'll regret getting your own Senco PC1010.

~ The Nail Gun Depot Team