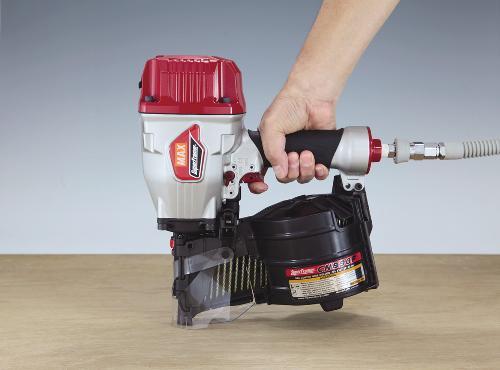 If you've come to the Nail Gun Depot, chances are you know what a nail gun is, what it does, and how it is used. Nailers come in a variety of shapes and sizes, designed to fulfill tasks that range from framing to finishing to flooring - depending on the user's needs. With a variety of options available, which tool is right for you? Find out the features you need, to take on the projects you want to build, right here.
Types of Nail Guns
From top-to-bottom, the largest of the nail gun family is the framing nailer. Framing nailers are built to tackle large jobs that require heavy duty fasteners (nails) - such as framing, fencing and pallet building. The industries that benefit most from this type of tool include home-building, construction and manufacturing. Similar to the framing nailer, roofing nailers are almost identical in appearance, however these nail guns are designed specifically to fastening roofing shingles.
For projects that are a bit less intense, finish nailers are recommended for jobs such as door and window trim, paneling, baseboard, casing, crown molding, furniture, shelving and cabinetry. A close relative to finish nail guns, brad nailers drive an even smaller - brad - nail, and are designed for small trim work and furniture repair. Typically, using a brad nail gun will prevent the need for wood putty to cover up a hole where the fastener has been driven - but these nailers can only be used on lighter-duty projects, since the fastener is not as large as a finish nail. Last but not least, a pin nailer might be your best option for crafting or small trim projects, such as cabinet doors and bird house building. For anyone in renovation or remodeling, having a good finish and brad nailer is key to success.
Designed specifically for hardwood and laminate floor installation, floor nailers are the last of the commonplace nail guns that most contractors or DIYer's will require. These nailers are built to install a variety of hardwood floor sizes and thicknesses. Typically activated with a mallet, floor nailers are only built for flooring applications. 
Pneumatic or Cordless Nailer?
The age old debate between contractors, do I want a cordless nailer or a pneumatic, air-powered nail gun? Most heavy-duty nail gun users swear by pneumatic tools, as they are generally a bit more reliable and do not require re-charging on the job site. The downside to a pneumatic tool, it requires the use of an air compressor. For workshop woodworkers, using nailers such as finish, brad and pin models, a small compressor will be more than capable. For heavy-duty, high-intensity use on a construction site, look to a larger compressor, as it has a larger tank and is capable of providing enough air-pressure for larger tools - including framing nailers.
If you choose a cordless nail gun, you will need to keep a battery charger handy to keep your tool running - once the battery wears down. Cordless framing nailers also require a fuel cell to provide the necessary pressure to drive a fastener. The benefit to a cordless tool, you can reach beyond the length of an air hose and can get into tighter, hard to reach areas. You also eliminate the need for an air compressor with a battery-powered nailing tool. This is generally the appeal that makes these types of tools desirable to DIY builders.
Nail Gun Features
You'll more than likely encounter some - or all - of the following terms, when comparing nailers. One of the most important features you will want to look for, an adjustable depth of drive lets you select how far you want your nail (or other fastener) driven into the object you are fastening. Another option to look for, directional exhaust plates allow you to select the direct your tool shoots it's exhaust - this feature is particularly beneficial in dusty areas. Last, but not least, you will also want to be sure your nailer has a jam clearing feature - to avoid lost time and/or costly repairs if/when your tool jams.
Depending on the job your are working on, pay attention to features such as trigger size (if you wear gloves while working), easy adjustment for different nail or fastener sizes, and a rugged exterior design to handle the projects you throw at your nailer.
Keep an eye out for the length of warranty offered by a manufacturer. Most brands will come with a one-year limited warranty, but certain tools go above and beyond - such as Senco's XP (XtremePro) line of nailers that include a five-year limited warranty, or Bostitch's seven-year limited warranty that is offered on select tools.
~ The Nail Gun Depot Team