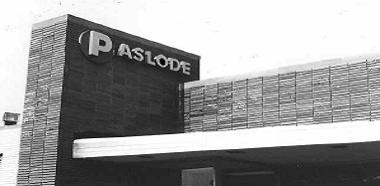 We're less than a week from July 4th, and in the spirit of celebrating Independence Day, we're kicking off a three-part series on the Nail Gun Network, honoring some of the great tool, fastener and compressor manufacturers that either manufacture and/or assemble their products in the United States.
To kick things off, we start with a founding father in pneumatic nailing - Paslode. The following is a condensed history of the Paslode brand, taken directly from ITW Paslode's website:
"Paslode's history for innovation began in 1935 when company founder, industrialist J.W. Leslie, felt a key to his company's (Signode Steel) success was demonstrating the product. Unfortunately, his sales representatives wasted time making cold calls on prospects that might not have a use for Signode products. To solve the problem, Mr. Leslie founded a subsidiary company to market shipping room supplies, with the additional intention of scouting potential leads for Signode representatives.
He called the company Paslode, to describe the product line: Packing, Shipping and Loading Devices. Paslode representatives went door-to-door, identifying likely Signode prospects. The representatives of course also sold Paslode products: stapling hammers and lightweight staplers too.
Paslode introduced the very first pneumatic tool -- a light duty upholstery tacker - in 1959. This simple tool eventually changed the direction of the company. Paslode's success accelerated the development of a full line of pneumatic tools. Shortly thereafter, Paslode produced the first commercially accepted pneumatic nailer, The Gun-Nailer™, providing the construction industry with a cost-efficient way to increase productivity and reduce worker fatigue.
Paslode continued to lead the way in the evolution of power fastening with the introduction of its Impulse nailer, the world's first cordless power nailer. Still considered the industry standard by many, the Impulse features a patented combustion motor that provides freedom from compressors and cords - allowing greater safety, maneuverability and versatility.
An enhanced pneumatic nailer, the PowerMaster™, was introduced in 1995. With its lightweight design and offering more power per pound than competing models, the PowerMaster defined an entirely new generation of pneumatic nailers.
Addressing the needs of the residential construction, roofing, furniture, pallet and crating, and manufactured housing industries over the years, Paslode has become an industry "staple." Today, Paslode's latest innovations include powerful, lightweight and efficient tools that are designed for all-day comfort and use."
Sticking true to their guns, Paslode still manufactures a majority of their tools in the United States to this day.
Wishing A Happy July 4th To All,
~ The Nail Gun Depot Team