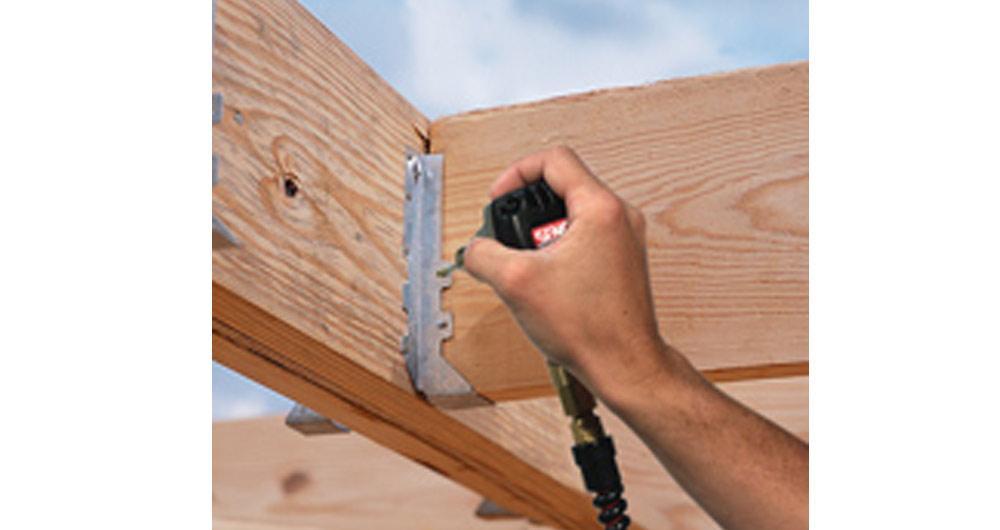 You've probably heard of them - may have even seen one - but still don't know what a mini-palm nailer is used for. Mini-palm nailers, also known as palm nailers, are not your traditional nail gun. A member in the nailer family, palm nailers serve a different purpose than the collated nailers that most people think of when searching for a nail gun. Discover the purpose of palm nailers, how they can be used, and why you need to add one to your tool shelf - when you enter the Nail Gun Network.
You ask, "what's a palm nailer?" To put it simply, mini-palm nailers are small pneumatic tools that drive bulk nails individually. Most palm nailers are designed to drive large framing nails, joist hanger nails or other bulk nails that are similar in size. The biggest difference between a pneumatic

framing nailer

and a palm nailer - collation. Traditional air-powered framing nailers drive collated gun nails, commonly known as strip nails and coil nails. These nails are held together in collation, meaning they are adhered together in a strip or coil by various bonding agents, which include metal wire, glue, paper tape or plastic. On the other hand, palm nailers drive individual, non-collated variations of these nails. And don't forget, both types of pneumatic nailer still require an air compressor to operate.
This probably leaves you wondering, "why would I use a palm nailer instead of a collated nail gun?" Collated nailers are ideal for projects that require repetitive nailing in quick strokes, but because of their size, they are often too bulky to fit in tight, hard to reach spaces. That's where a mini-palm nailer can become the most useful tool in your systainer box. Palm nailers are designed to pick up where a collated nailer leaves off. Uses for palm nailers include framing, decking, fencing, metal connector straps, pole barn construction and much more - just think of them as a pneumatic nailer specifically designed to fit into hard to access spaces. A great example of an inexpensive, well-built palm nailer, check out the Senco PC1195.
Some palm nailers, such as the Powernail Power Palm, take it a step further to fill gaps in niche applications. The Power Palm is designed to drive L-Cleat flooring nails, making it a must have accessory nailer for flooring installers and general remodeling contractors. A specially designed nose makes this palm nailer ideal for applications such as blind nailing, top nailing, transitions, doors and corners.
~ The Nail Gun Depot Team