7/16" Crown 3/8" Leg Galvanized Plain

7/16" Crown 3/8" Leg Galvanized Plain
H06BAA
Box Count: 5000
In Stock,Subject To Manufacturer Availability
Product Overview
The H06BAA, 7/16" crown x 3/8" leg, 20 gauge, galvanized staple (H06BAA):
Compatible Tools: Senco SFT10-H, A11, Grex A11AD, and other H series staplers
Suitable Applications: These H series medium crown staples are excellent for insulation, house wrap, roof paper, carpet padding, light wood assembly, upholstery and more.
Interchangeable Fasteners: Senco H (H06BAA), A-11, Arrow T50, T-55, Duo-Fast A-11, Rapid 11, JK671.
Please Note: Depending on availability, we may substitute this product with an identical interchange from another name-brand, such as Senco, Spotnails or SureFit. Product specifications, box count and build quality will remain identical, but may arrive in alternate packaging. If you have specific brand requirements for your fastener order, please specify in the comments section during checkout.
WARNING:
California residents, this item qualifies for
Proposition 65
legislation.
Specifications
Box Count 5000
SKU H06BAA
UPC 741474059247
Fastener Length 3/8"
Collation Type Glue
Gauge 20 Gauge
Brand Senco
Condition New
Fastener Treatment Galvanized
Fastener Point Type Chisel
Fastener Material Steel
Fastener Crown Width 7/16"
Fastener Crown Type Flat
Special Offer Available No
Fastener Type Fine Wire Staple
Series H
Reviews/Q&A
Product Questions
No questions yet. Be the first to ask the question!
Accessories
Often Purchased Together
Free Shipping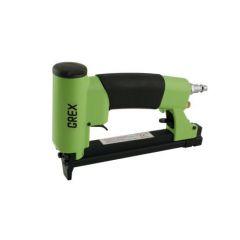 Free Shipping