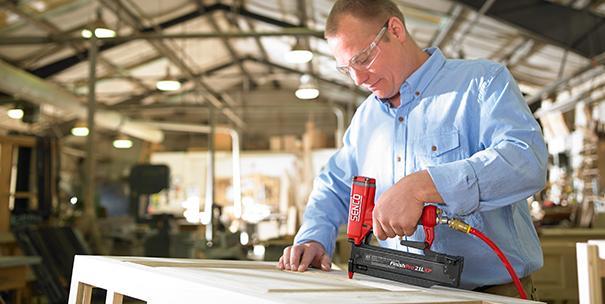 Having a hard time shopping for Dad? Skip the macaroni art and surprise him with a gift he can actually use. Priced for budgets of all sizes, take a look at our Top 5 Woodworking Gifts For Father's Day 2017.
Small budget? Shopping for the Dad that has it all? Consider an accessory or attachment for the tool(s) he has already. If he prefers to use air-powered tools, consider a new air hose. With prices ranging from $29 to $100+, there are plenty of options to choose from. For the tech savvy Dad, going cordless, consider a spare battery for his cordless nailer or stapler.
If shopping with a slightly larger budget, consider getting Dad a complete cordless kit. Thanks to Hitachi, from now through July 31, 2017, you can get a FREE DS18DSAL cordless drill kit via mail-in form, when purchasing any of Hitachi's all-new Li-Ion cordless finish nailers (models include NT1850DE, NT1865DM, and NT1865DMA). Even better, we're throwing in an additional spare Li-Ion nailer battery instantly with participating tool purchase. Free mail-in drill kit includes DS18DSAL cordless driver drill, Li-Ion cordless LED job light, 2 Li-Ion batteries, and battery charging base. All-in, Dad will get 4 Hitachi Li-Ion batteries, a cordless drill, LED work light - and of course, the Hitachi cordless nailer. Whether you split this kit up, keep part for yourself, or give him the full package, Dad won't find a deal like this anywhere else.
Maybe finish woodwork isn't Dad's thing? If he's into heavy carpentry, consider a framing nailer for Dad. For a limited-time, Nail Gun Depot is offering the Dewalt DCN692M1 at its lowest price yet - while supplies last. You can also check out our full catalog of framing nail guns here.
Dad stocked up on fastening tools? A "must-have" in every woodshop, make sure Dad has an accurate measuring level. With options ranging from $10 to $1,000+, Stabila offers premium quality construction levels and laser levels - ensuring Dad the precision his projects demand. Choose from a wide variety of levels and lasers, including a full selection of spirit levels, mason levels, magnetic levels, plate levels, pocket levels, torpedo levels, exact length levels, electronic levels and more.
Last, but certainly not least, for the Dad that's getting started in woodworking, consider a tool and air compressor combo kit, such as the Senco PC0947 brad nailer and compressor combo set, or the Bostitch BTFP72646 3-tool finish kit with air compressor. The beauty to combo kits, such as these? They include everything Dad will need, to get started with woodworking. Simply plug in the compressor, hook up the tool, and he's ready to go.
A Father's Day gift to all, use promo code FIVEOFF during checkout to receive 5% off your entire order!
Wishing A Happy Father's Day To You & Yours,
~ The Nail Gun Depot Team