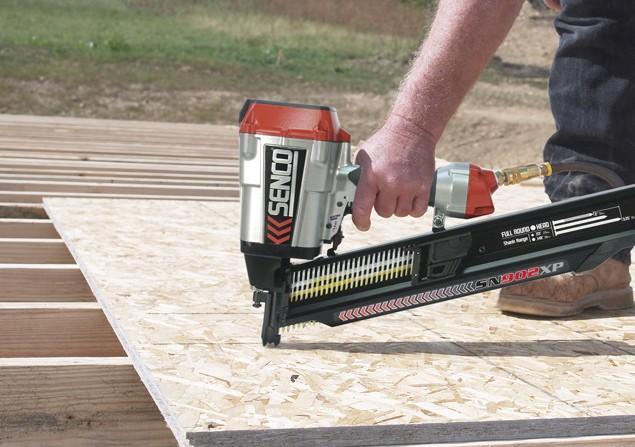 Can't decide whether to use nails or screws to install subflooring? Choosing the right subfloor fasteners can make all the difference in the quality and value of your installation. Before making a decision, consider the following key points:

Which is faster?
When time is of the essence, nailing is the quickest fastening option when installing subfloor. Regardless of firing mode, an air nailer lets you drive nails within seconds of each other, which saves time compared to using a screw gun. Screws need to be twisted into the subfloor, which takes more time than simply shooting a nail into subfloor material.
However, some screw guns, like the Senco DuraSpin DS440-AC, are auto-fed. A collated strip of screws in this case makes screwing subfloors a little faster, although it's not as swift as nailing.
Which is more economical?
If you're on a tight budget, nails are the more economical solution. But, not all nails are created equal. Stainless steel nails, for instance, offer a higher quality, but are pricier. Overall, screws tend to be somewhat more expensive, but like nails, some offer better quality for a higher price.
With that said, it's imperative you choose a fastener compatible with your subfloor thickness and material. The quality and correct type of subfloor fastener can literally make or break your floor. The better the quality now, the longer your floor will last later – not to mention the sturdier it will be.
Which has better holding power?
As far as nails go, ring shank nails are a popular choice for subflooring. A ring shank has extra grip and holding power, compared to other shank types, and creates a tighter subfloor. Although ring shank nails have a good hold, screws have more overall holding power by comparison. With a larger thread gripping a bigger surface area around them, screws hold your subfloor very tightly – allowing no wiggle room for shifting or loosening.
Several nail manufacturers, such as Senco and Paslode, have released their own proprietary solutions to improve the holding strength of a subfloor nail. Senco's Whisper Grip subfloor fasteners feature lower rings designed to fully engage and grip the joist or studs, while upper rings ensure the nail remains countersunk - even if the joist or studs are missed. Paslode's TetraGRIP Subfloor Fastener takes it a step further, with a barbed thread design that when driven into wood, bonds with the fibers without destroying the wood. Paslode describes it as "rotation without destruction."

Which is more durable?
Consider the heating and cooling of floors during the summer and winter months. Subfloors, like any other material, will expand and contract with temperature. This means that movement, even at a micro level, will occur. The smaller thread on a ring shank, compared to the larger screw thread, doesn't provide as much grip as the larger one does. This means that the ring shank nail acquires less stress, but can essentially "move with the floor" more so than a screw can.
By comparison, the screw has much better holding power, and can therefore contribute to an overall tighter subfloor. However, when the subfloor expands and contracts with temperature, or even house movements, the screw can't move with the shift. This builds stress in the screw, which can cause the screw head to shear off in extreme circumstances. Likewise, if a screw is not driven flush, is over driven, or the wrong size screw is used, the screw head as an increased chance of breaking.
Which fastener prevents floor squeaks?
The fastener you choose will certainly play a part in whether your floor squeaks or not. Nails have greater potential for causing squeaking floors, due to their temperature flexibility. Movement between the subfloor and nail (even a ring shank) inevitably causes the two to become loosened over time, which creates floor squeaking – particularly in high-traffic areas.
Screws, if driven properly, prevent creaking floors. A screw firmly holds the subfloor in place, which ensures a squeak-less floor for years to come.
Are there any alternative options?
Perhaps a happy medium in the subfloor nail versus screw debate, SubLoc Pro Scrail Fasteners offer a hybrid between the traditional nail and screw. Combining the versatility of a nail with the hold strength of a screw, they can be used with most framing nailers – meaning these subfloor fasteners can be driven much faster than screws. Like a screw though, Scrail Fasteners can be adjusted and removed after placement.
With aggressive threading along the whole shank, Scrails have exceptional holding power, ensuring the subflooring remains tight. Scrails also have a diamond coating, which provides extra grip once installed into the subfloor material. This improved holding strength means floor squeaks are virtually non-existent.

For any subflooring project, always consult your local fastening schedule, and find out what fastener length is appropriate for your subfloor. Nail Gun Depot offers nails, screws and Scrails, as well as specifications for all of our subfloor fasteners.
---
Shop Nail Gun Depot:
Fasco Scrails