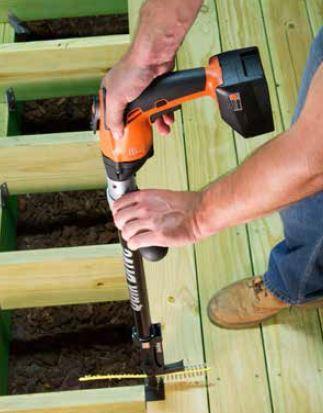 Want to stay updated on what's new in the tool and fastener industry? As part of our commitment to providing the latest and greatest in power fastening tools, Nail Gun Depot is excited to announce the following recently launched tools, now on NGD.
Let's start with an innovative - the first of its kind - cordless screw gun motor for QuikDrive, powered by Fein. The Fein ASCS6.3 cordless motor for QuikDrive auto-feed screw fastening systems
is compatible with ALL QuikDrive auto-feed attachments, thanks to a pre-installed QuikDrive adapter - bringing a whole new level of compatibility to the QuikDrive family of screw guns.
An 18V Li-Ion battery powers the system, eliminating the need for power cords and electrical outlets on the job site.
Drive more than 600, 3" deck screws per battery charge. A high-output, brushless EC motor runs up to 266 in/lb-feet, featuring an efficient and maintenance-free design. To top this package off, the Fein ASCS6.3 includes a three-year warranty on the motor and batteries, when registering your tool online.
Another addition to the

QuikDrive

lineup, be sure to check out the QuikDrive PRO300M25K wood decking kit. Just in time to finish up your deck building project before the winter, the PRO300M25K
drives special 1-1/2" to 3" collated Deck-Drive screws
into wood deck surfaces.
The PRO300SM25K kit includes the QuikDrive PRO300S auto-feed decking attachment, an extension for stand up driving, a decking nose clip for consistent screw placement, a quiver for keeping screws at your fingertips, rugged tool case, and Makita screw driver motor. Item includes a manufacturer's lifetime warranty
.
Moving to a tool for specialized use, Senco has launched the SCN63LDXP structural foam insulation nailer
, capable of driving 15 degree,
2-3/8" to 2-1/2" wire coil framing nails
.
Designed specifically for the installation of continuous structural foam insulation panels, the SCN63LDXP Coil Nailer drives nails through up to 1" thick foam insulation panels. The Senco SCN63LDXP features a long drive lock out, ensuring the proper seating of a nail head - through the foam - against the substrate. The unique safety foot guide ensures proper alignment and reduces damage to the foam surface when fasteners are driven. The SCN63LDXP fastening system reduces installation time and improves productivity on the job site or for in-plant operation
s.
Additional features on this tool include 360 degree adjustable exhaust, tool-free depth of drive adjustment, comfort grip, adjustable nail canister, e-z load design, debris shield and a five-year limited warranty from Senco. Please note

t

his tool is to ONLY be used to install continuous foam insulation with a foam thickness of up to 1" deep - NEVER use on bare wood, metal or other hard surfaces. The drive blade will extend beyond the safety element in the actuated position. This tool is rated for Atlas ThermalStar LCi-SS insulation.
Last, but certainly not least, be sure to check out our Paslode Halloween Spooktacular, where you get a free car charger adapter on qualifying Paslode cordless finish and trim tools.
~ The Nail Gun Depot Team