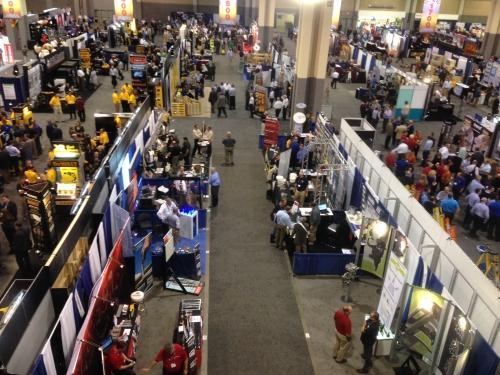 The stakes grew for some, at the STAFDA (Specialty Tools And Fasteners Distributors Association) convention this year, in Phoenix. Literally speaking, we would never recommend putting your tool in a tank full of sharks, but for some manufacturers at the show, they did just that. Of course, there wasn't any water, and the sharks didn't bite off limbs - but they were hungry for the latest and greatest tools and accessories.
Have you guessed which sharks we're talking about yet?
That's right, the stars of the hit television series "Shark Tank" made a guest appearance at the 2015 STAFDA show - shopping for the next great innovation.
Outside the shark tank, there were several other new tools worth mentioning, several of which can be found on Nail Gun Depot - or will be available on the site in the near future. In addition to our announcement regarding the transition of

Duo-Fast SureShot tools to OMER

replacement models, we have also gotten word that Powernail will offer several comparable replacement tools to compensate for discontinued Duo-Fast items. Among the new Powernail tools offered on Nail Gun Depot, look for the Powernail HT-755 hammer tacker, which replaces the Duo-Fast HT-755 slap stapler; and the Powernail Model 5418E electric carpet stapler, to replace the Duo-Fast Carpet Pro electric carpet tacker.
Of course, you read about the

Dewalt DCN660 series Li-Ion cordless finish nailer

, in our post last week. Look for a full-line of all-new

Dewalt

pneumatic nailers and staplers to arrive on Nail Gun Depot, just in time for the holidays. Choose between air-powered finish nailers with Precision Point technology, framing nailers, staple guns and more.
Last, but certainly not least, be sure to subscribe to the NGD YouTube channel. We'll be posting several new videos in the coming weeks, to help answer some of our most frequently asked questions about tools, fasteners - and more.
~The Nail Gun Depot Team