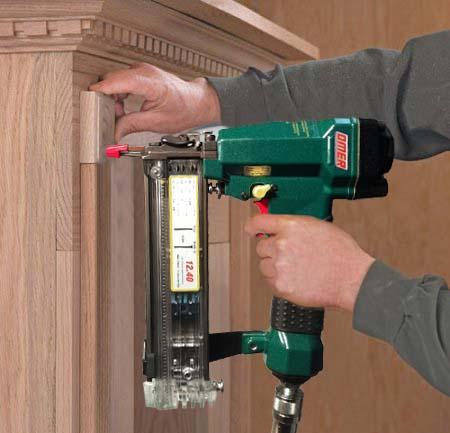 Getting ready to start a woodworking project? Maybe you aren't sure what tools you need to complete your project? Let's take a look at some of the tools you might need to tackle woodworking, whether starting your first project or just adding a new tool to your collection.
There isn't one specific woodworking tool that's more important than another for your workshop—it really just depends on the project you're looking to take on. Unless you get a battery-powered, cordless fastening tool, you will need an air compressor to power any nail gun or staple gun you purchase. 
Start With A Finish
If you're just getting into woodworking or DIY projects around the home, you'll probably want to start with a finish, brad or pin nailer. These tools are most commonly selected for smaller woodworking projects such as furniture and cabinet building, trim work, and craft projects.
Similar to a finish nailer, you might also consider a finish stapler, depending on the small project you're working on. Staple guns can be particularly useful for furniture and upholstery projects. Upholstery staplers are an absolute must-have tool if you're refinishing a chair or sofa.
Getting Structural
Looking for something a bit larger to build? For sheds, home additions, tree houses, or anything else that requires a structural frame, you'll need a framing nailer. These nail guns have the power to drive large framing nails, which are mandatory for any structural project. Once a structure has been framed, you might find a screw gun useful for adding any finishing touches to your project, such as drywall or deck boards.
In the Palm of Your Hand
Last, but not least, don't rule out a palm nailer as a viable option for less intense projects, particularly ones that require touching up those hard-to-reach areas. A palm or hand nailer, as they're also known, is typically used for framing, decking, fencing, pole barns, metal connector straps and other similar applications. While palm nail guns don't offer the benefit of a collated drive to hold a large capacity of fasteners, palm nailers are small, and capable of reaching hard to access areas where a large tool would be unable to fit. Another benefit to palm nailers; you can find most priced below $100.
Ready to start your project? Need more help? Our trained customer service team is ready to pair you with the right fastening tool for your project.
~ The Nail Gun Depot Team