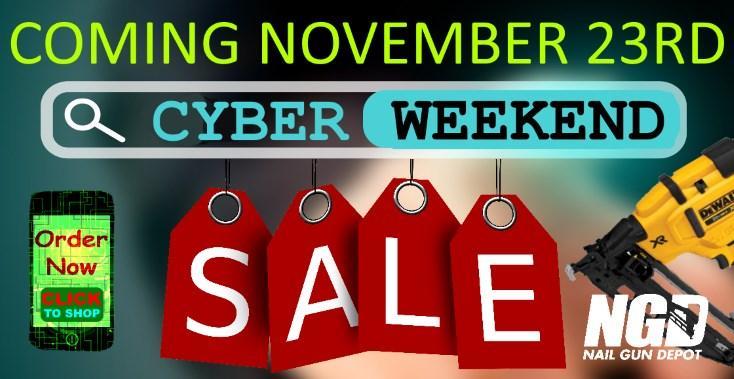 Mark your calendars; Nail Gun Depot's Cyber Weekend starts November 23! That's when our biggest sales drop, so sink your nails into a few of the previews, below.
For more specials, see the Cyber Weekend Catalog at Nail Gun Depot. Get 'em before they're gone! Offers start November 23, 2018, and run through November 26, 2018 - while supplies last.

A Deal a Day = One Excellent Weekend
A Hat You Won't Forget
Your Coffee's Coolest Keeper
FREE Spares Are The Best Kind
Your Favorite Tunes—Even On a Roof
A Blade or a Hose... Can't Decide? Get Both!
Winter is Coming.
To Err is Human, To Remove it is Divine
Good Fence Staplers Make Great Fences
 It's Like the Lottery—But With Tools
For more Cyber Weekend specials on Cadex, Grex, Makita, Metabo HPT/Hitachi, MAX, Paslode, Senco, and more, see Nail Gun Depot's Cyber Weekend page.
Know someone else who likes a sweet deal? Share the cyber sale news on Facebook or Twitter!