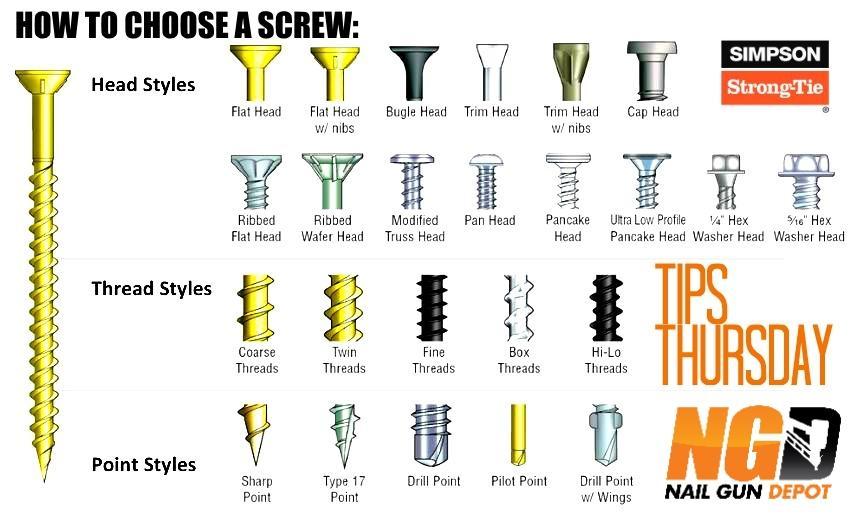 Collated screws from Senco, Quik Drive and other manufacturers come in several shapes and sizes - each intended for a specific use. Every collated screw is designed to fulfill its own niche application. Find out which screw is right for you when you enter the Nail Gun Network.
Just like you would classify a nail, a screw can be broken down by its head, thread and tip. Screws can be divided down further by coating, material and color. Considering this, here's a break down of typical screw features based on the application of its intended use.
Drywall screws need to provide enough holding power to keep drywall board firmly in its place, but don't necessarily need the same rigidity and coating as a screw that would be used for an exterior application. Most drywall screws will have a bugle head with a Phillips drive. The bugle head allows the screw to sink flesh with the drywall board surface. The thread and tip will determine the type of material the drywall board is being fastened to. For drywall to wood screws, a sharp point tip paired with coarse threads is relatively common. For drywall to steel, a drill point tip is more common.
For an exterior application, such as decking, screws need to not only provide the appropriate holding power - they also need to be durable enough to stand up to the outside elements indefinitely. Collated deck screws from Senco or Quik Drive generally feature a square drive, with either flat or capped heads. A sharp point tip and thicker threads will increase holding power and ease of drive. Because these screws will be exposed to moisture and other outside particles, most deck screws come with a manufacturer specific coating to help delay the weathering process. In coastal regions, many builders are required to use stainless steel screws for exterior applications to further prevent deterioration of the fastener.
With wood to wood applications, you will typically find that most available screws will have a sharp tip with a flat head and twin threads for additional holding strength.
Either zinc, phosphate, galvanization or some form of coating
will most likely also be present. The coating will help to improve the overall durability of the screw if it becomes exposed to moisture.
Metal roofing screws
are a little bit different than those used for wood applications. Metal to metal screws, particularly those used for metal roofing, will have a raised head with threads that run from head to tip. For extra heavy-duty
metal roofing applications, you might even find the screw has a washer at the base of its head to help provide even greater holding strength.
For the average homeowner, you typically won't use anything beyond basic drywall, decking or wood screws.
For contractors, depending on the applications you work with, the possibilities are endless.
~ The Nail Gun Depot Team