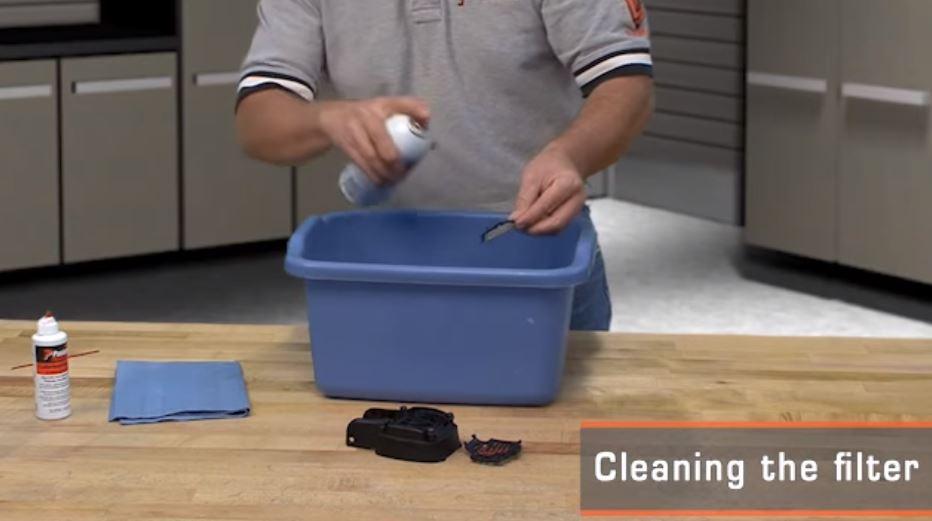 Maintaining and cleaning a cordless nailer takes about 15 minutes, once every 6 months or 50,000 nails—that's all. To keep a Paslode cordless framing nailer in prime condition, watch the step-by-step Paslode video.
You'll Need the following:
lint-free rag

tool cleaner

Allen wrench

Tool Manual
A lint-free rag is important to keep particles form entering the tool. Always practice safety when cleaning your cordless finish nailer. 
Be sure to remove battery, fuel, and nails from the tool prior to cleaning. 
Maintenance Steps
Clean - Grab your tool cleaner. Begin removing dirt and residue from the filter, cylinder head assembly and combustion chamber.
Oil - Oil your motor assembly sleeve, seal rings and combustion chamber.
Reassemble - Make sure that all screws are tight. Loose screws can result in personal injury or malfunction. For example, a loose nose could cause your nailer to fire multiple nails.
Test - Make sure everything is in working order. It's normal for the tool to release a small amount of smoke. If something's malfunctioning, however, consult the product manual or contact Paslode Tech Support.
Pro Tips:
Don't forget to check the expiration date on the fuel cells. An expired fuel cell can affect cordless nailer performance.
These steps and video are for Paslode cordless framing nailers, specifically the CF325-Li (replaced by th

e CF325XP Cordless Framing Nailer).

Always consult your tool's specific manual

.
~ The Nail Gun Depot Team