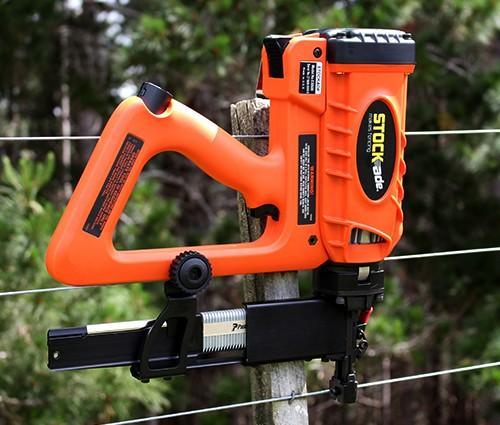 If installing wire fence is on your to-do list, you know the importance of fast and lightweight tools, not to mention the convenience of being cord-free. While several brands have both 9 and 10.5 gauge agricultural fencing tools, few can compete with the reliability and reputation of STOCKade. Whether you're a farmer, electrical utility worker, highway fence installer, or metal and mesh fencing contractor, expect to improve productivity and workmanship with these STOCKade products.
The beauty of the STOCKade brand is the impressive output and durability they possess. Back in the late 1990s, the ITW Paslode folks in New Zealand attempted to bring the latest pneumatic tool technology to rural fence making. Since agriculture is the top industry in that region, the market was certainly there.
By 2009, STOCKade introduced the first power stapler, creating a tool five times faster than the manual hand-hammering process. After a successful launch in New Zealand, they decided to branch out to North America and the UK. Here in America, we needed a pneumatic gun that could drive 2" staples, which meets all highway code requirements. And so was born the ST400 Air-Powered Fencing Stapler, the first of its kind made explicitly for wire fence construction.
Needless to say, we're excited to be one of few U.S. distributors to carry them. STOCKade tools are made with lightweight, corrosion-resistant aluminum alloy housing. Tools feature adjustable drive depths, and drive a minimum of 2 staples/second. For farmers, contractors and even utility installation pros, product build and overall quality is unmatched.
Nail Gun Depot has been selling the STOCKade ST400i Cordless Fence Post Stapler, and now also offers the ST400 Pneumatic Fence Post Stapler. Both versions take 9-gauge staples, with the latter driving 3 staples/second, and the slightly heavier 400i driving 2 staples/second.

PRO TIP: Don't forget, STOCKade cordless staplers require both battery and gas fuel cell to operate. The staples and fuel for the 9-gauge cordless ST400i model come bundled in fuel/staple packs.
Also new to us is ST315i Cordless Fence Batten Stapler, which takes 10.5-gauge staples. It has an operating temperature between 19.4°F and 120.2°F. Each of the cordless models deliver 3,000 staples per battery charge, though the fuel cell capacity of the ST315i is double (1,000 staples/cell) that of the ST400i.
PRO TIP: Since STOCKade lives under the Paslode umbrella of products, you'll find that fuel cells for the ST315i cordless stapler are interchangeable with the equivalent Paslode orange framing fuel cell.
A great tool doesn't do much without a comparable fastener to do the heavy lifting. STOCKade staples are just as brawny, and are made of 240gm pre-galvanized wire, with a Class 3 HDG (hot-dipped galvanized) coating. The tough, rust-resistant coating contains 90% zinc and 10% aluminum [known as a Bezinal coating], which gives greater protection from corrosion than a standard galvanization.
What is a Class 3 coating, you ask?
To begin, a Class 1 coating is typically found on standard barbed wire or field fence, and will generally last from 2 to 11 years. Class 3 is about 2-1/2 times thicker, and remains rust-free from 13 to 30 years in non-coastal regions.
These paper-collated staples come secured with a weatherproof tape that prevents tool contamination. After each staple gets driven, a patented glue then seals the hole created by the staple — further preventing corrosion and deterioration. As timber ages, it dries out and cracks. Divergent tips on staples for the 400-series spread apart when driven into wood, for a more secure connection.
Now, agricultural and horticultural fence building jobs are that much easier — and that much more dependable. Check out STOCKade fencing products today, or view this quick video introducing STOCKade tools!

~ The Team at Nail Gun Depot