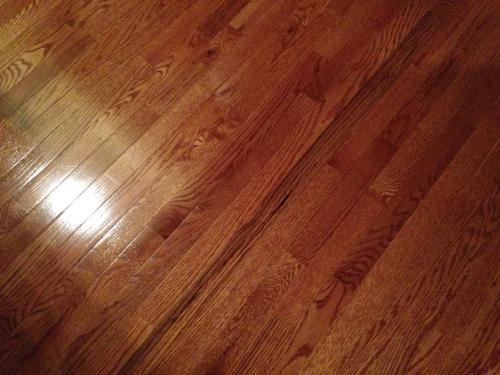 If you remodeled or built a home recently, you've probably considered hardwood or laminate flooring for at least one room of the house. A must-have feature in new home construction and older home renovation, hardwood and laminate flooring has grown significantly in popularity throughout the last 10-15 years. We've shown you
How To Install A Hardwood Floor
,
 but what about the best tools to get the job done efficiently and effectively?
Determining which type of flooring tool to use is up to you. Today, we're just looking at a few of the best tools from each category, available for use on hardwood and laminate flooring applications.
Let's start with flooring staplers. If you are looking for a top-of-the-line hardwood stapler, Bostitch offers an industry-leading line of flooring staple guns to choose from. Pneumatic or air-powered, two top-selling models include the
Bostitch MIIIFS
and the
Bostitch EHF1838K
. The biggest difference between these models, the MIIIFS is mallet-actuated (meaning you must strike the tool with a rubber mallet to drive the staple), whereas the EHF1838K is trigger-actuated. The MIIIFS is considered the flagship model of Bostitch floor staplers, but for many, the trigger-actuated firing of the EHF1838K is more desirable - especially for DIY users.
If you are looking for a less expensive option, 3 PRO is an up-and-coming brand that offers less expensive, durable flooring staplers. Models such as the
3 PRO S9032P
and
3 PRO S9040P
are inexpensive hardwood tools that are designed to compete with higher-end models from well-known manufacturers. The
3 PRO FSN50
not only drives flooring staples, it can also be used as a nailer. (Update: 3 PRO is no longer in business.)
Moving into floor nailers, you have the option to choose between manual or pneumatic powered tools. Just to refresh, as we mentioned earlier, pneumatic tools are powered by an 
air compressor
, whereas a
manual floor nailer
is powered by human force.
Bostitch
and
Powernail
offer a few popular manual tools, but many opt for the easier to operate
pneumatic models
.
Two popular pneumatic floor nailers, the
Bostitch MIIIFN
(the nailer variation of the MIIIFS) and the
Powernail 2000 (replaced by

Powernail 2000F

)
come recommended by many users. Again, the MIIIFN is mallet-actuated - as are most pneumatic hardwood nailers and staplers - whereas the Model 2000 relies on a trigger to fire.
A secondary tool that's worth considering,
palm nailers
are also frequently used to secure the initial floor board at the base of a wall. Don't underestimate the versatility of these tools - though we don't recommend using a palm nailer for bulk nailing applications. Built specifically for flooring applications, the
Powernail Power Palm
face nailer is designed with a special nose that allows it to accept flooring nails, an excellent option for hardwood flooring.
There are many other flooring tools to choose from, so don't feel limited to these models - including many others that also come highly-recommended - so be sure to look at all of your available options before selecting a tool. Also, keep in mind that each of these tools runs a specific range and type of fastener, so be sure that the range is relevant to the application.
~ The Nail Gun Depot Team