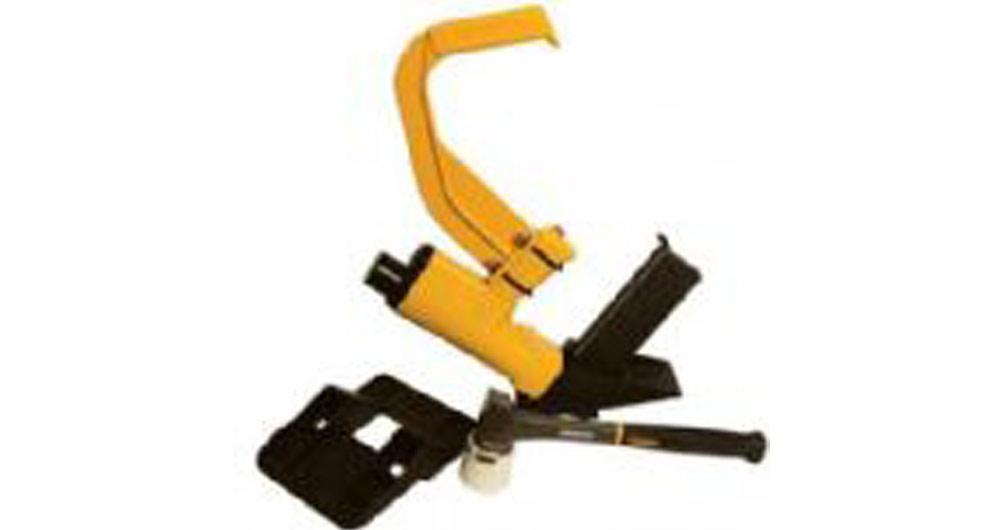 So you are interested in replacing your hardwood floors, but you don't know which tool will work best for the job? If you look for a flooring tool, you will see there are flooring nailers

 

and floor staplers. 

The

 tools may look similar, but which one is the one you need? The answer is, either tool can work for you, but let's explore some of the differences between a floor nailer and flooring stapler, to give you the most informed decision possible.
Bostitch Miiifs
Floor nailers are available in two variations, manual or pneumatic (air powered). You might hear a contractor refer to this tool as a flooring cleat nailer, as it most often takes cleat nails for fastening. A manual flooring nailer will require additional muscle, as it relies solely on its user's strength. On the other hand, pneumatic floor nailers assist the user by providing additional force, when inserting a nail. Either of these tools will require a user to hit the driver head when inserting a cleat. The amount of pressure required depends on the density of the wood being installed. A thicker wood will require longer cleats, which also calls for additional force to drive the fastener. You will find it easier to use a pneumatic floor nailer for thick woods, such as Brazilian Cherry.
Powernail 2000
Flooring Staplers are also available in manual or pneumatic variations, although manual floor staplers are typically not preferred in the construction trade. As you can see on Nail Gun Depot, electric staplers are also an option, depending on the source of power that you prefer - although pneumatic is by far the most common offering.
A hardwood stapler anchors the flooring planks to the sub-floor, driving staples into the tongue of a wood plank. Recognized as an industry "staple," the Bosititch Miiifs is one of the most popular tools for the flooring stapler segment, thanks to its superior performance and time-tested reliability. Operating at 60-100 PSI, the Miiifs can achieve 420 pounds of driving power.
Now that we know the tools available, let's look at the flooring fasteners that make the difference. As you saw above, the tools operate similarly, which means that the difference primarily lies in the fastener itself. It all boils down to nails versus staples. [Also note that you should not switch between nails and staples when installing a floor - whichever fastener you start with should be the only one used throughout the entire project.]
A flooring nail, or cleat, is typically offered in either "L" head or "T" head variation - check and see which variation your nail gun requires. A cleat nail offers a sharp, rigid body to grip the sub-floor firmly. It also features a smooth portion of its body, which allows for seasonal expansion and contraction of the flooring. Typically, cleat nails are available in 16 or 18 gauge - although 20 gauge is also available for certain applications. The more durable option of the two, the drawback to cleats is their cost - compared to the cost of staples.
"L" Cleat
Floor staples provide two-pronged fastening for hardwood flooring. Flooring staples actually provide a stronger initial grip than cleats, but do not hold as firmly when the floor expands and contracts - which can eventually lead to creaking. Another drawback to staples, they can split the tongue of flooring - especially when the plank is less than 3/4" thick. Because staples are less costly to manufacture, they are typically the more cost-effective flooring fastener, when looking at cleats versus staples. However, you also have to consider the long-term durability of your flooring installation, when selecting between staples and nails.
Floor Staple
Regardless of the flooring nailer or stapler you choose to use, it is imperative that you understand your tools prior to using. Applying too much pressure can damage your floor, while applying too little pressure can cause cleats or staples to only be driven partially, resulting in each neighboring plank to not form a tight fit, ruining the entire project.
If you need additional assistance in choosing the perfect flooring nailer, stapler or fastener for your job, Nail Gun Depot's customer service is ready to help!

 ~ The Nail Gun Depot Team