What's The Difference Between A Floor Nailer & Flooring Stapler?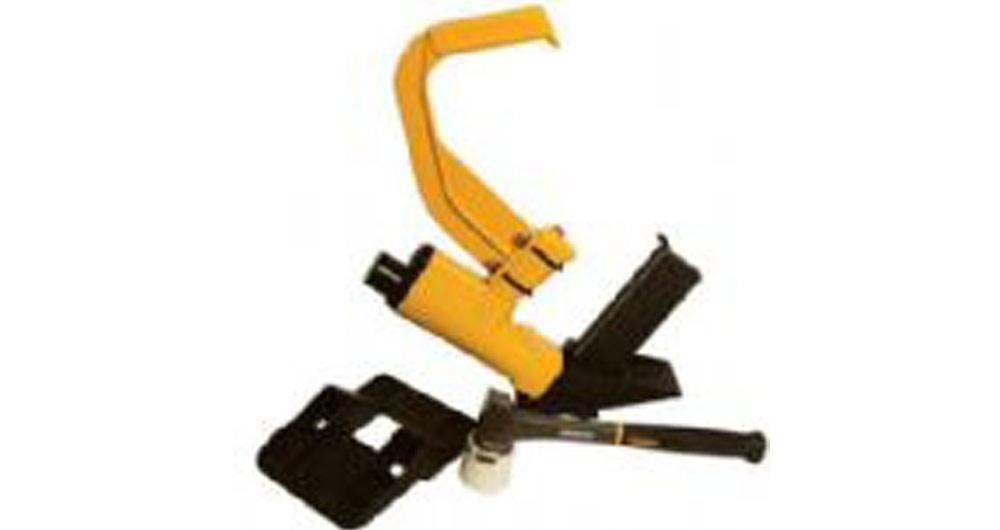 So you are interested in replacing your hardwood floors, but you don't know which tool will work best for the job? If you look for a flooring tool, you will see there are flooring nailers

 

and floor staplers. 

The

 tools may look similar, but which one is the one you need? The answer is, either tool can work for you, but let's explore some of the differences between a floor nailer and flooring stapler, to give you the most informed decision possible.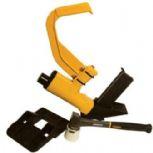 Bostitch Miiifs
Floor nailers are available in two variations, manual or pneumatic (air powered). You might hear a contractor refer to this tool as a flooring cleat nailer, as it most often takes cleat nails for fastening. A manual flooring nailer will require additional muscle, as it relies solely on its user's strength. On the other hand, pneumatic floor nailers assist the user by providing additional force, when inserting a nail. Either of these tools will require a user to hit the driver head when inserting a cleat. The amount of pressure required depends on the density of the wood being installed. A thicker wood will require longer cleats, which also calls for additional force to drive the fastener. You will find it easier to use a pneumatic floor nailer for thick woods, such as Brazilian Cherry.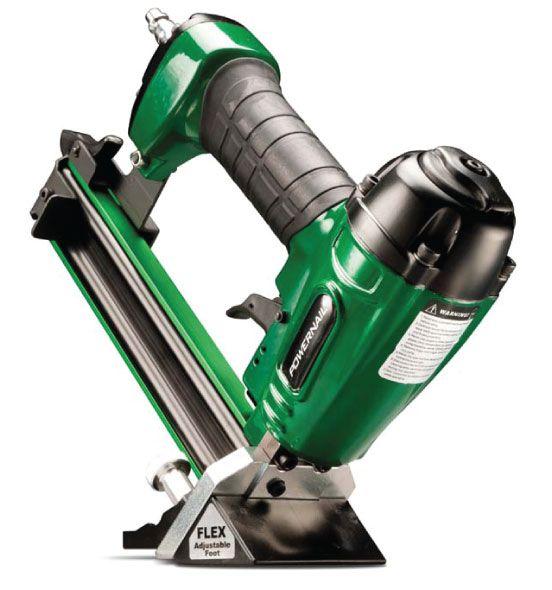 Powernail 2000
Flooring Staplers are also available in manual or pneumatic variations, although manual floor staplers are typically not preferred in the construction trade. As you can see on Nail Gun Depot, electric staplers are also an option, depending on the source of power that you prefer - although pneumatic is by far the most common offering.
A hardwood stapler anchors the flooring planks to the sub-floor, driving staples into the tongue of a wood plank. Recognized as an industry "staple," the Bosititch Miiifs is one of the most popular tools for the flooring stapler segment, thanks to its superior performance and time-tested reliability. Operating at 60-100 PSI, the Miiifs can achieve 420 pounds of driving power.
Now that we know the tools available, let's look at the flooring fasteners that make the difference. As you saw above, the tools operate similarly, which means that the difference primarily lies in the fastener itself. It all boils down to nails versus staples. [Also note that you should not switch between nails and staples when installing a floor - whichever fastener you start with should be the only one used throughout the entire project.]
A flooring nail, or cleat, is typically offered in either "L" head or "T" head variation - check and see which variation your nail gun requires. A cleat nail offers a sharp, rigid body to grip the sub-floor firmly. It also features a smooth portion of its body, which allows for seasonal expansion and contraction of the flooring. Typically, cleat nails are available in 16 or 18 gauge - although 20 gauge is also available for certain applications. The more durable option of the two, the drawback to cleats is their cost - compared to the cost of staples.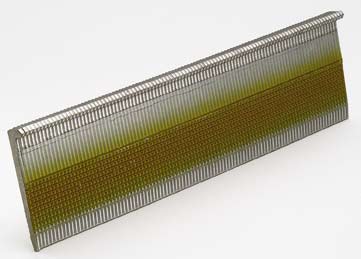 "L" Cleat
Floor staples provide two-pronged fastening for hardwood flooring. Flooring staples actually provide a stronger initial grip than cleats, but do not hold as firmly when the floor expands and contracts - which can eventually lead to creaking. Another drawback to staples, they can split the tongue of flooring - especially when the plank is less than 3/4" thick. Because staples are less costly to manufacture, they are typically the more cost-effective flooring fastener, when looking at cleats versus staples. However, you also have to consider the long-term durability of your flooring installation, when selecting between staples and nails.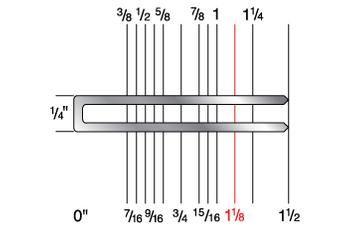 Floor Staple
Regardless of the flooring nailer or stapler you choose to use, it is imperative that you understand your tools prior to using. Applying too much pressure can damage your floor, while applying too little pressure can cause cleats or staples to only be driven partially, resulting in each neighboring plank to not form a tight fit, ruining the entire project.
If you need additional assistance in choosing the perfect flooring nailer, stapler or fastener for your job, Nail Gun Depot's customer service is ready to help!

 ~ The Nail Gun Depot Team
18 Comment(s)
What L-cleat length should i use for tongue and groove installation on a very hardwood OKAN with thickness of 1/2 inch.,

And what is the use for 20 degree L-cleat nails versus a straight one. Which one should i buy 20 degree or the straight one?

And power nailer brand should i purchase. Saw in google the top is DEWALT dwfp12569. Any suggestions?

And will galvanized nails corrode in the long run? or use stainless to avoid corrosion.

Will use this in Manila, Philippines.
Nail Gun Depot
Apr 15, 2019 11:23
Hi Phillip,

Thanks for your question. We cannot suggest a fastener length for your application (that depends on the manufacturer suggestions and your surface). We aren't sure what you mean by 20-degree angle. But we do like the <a href="https://www.nailgundepot.com/bostitch-miiifn-hardwood-flooring-cleat-nailer-112-to-2-details.html" rel="nofollow">Bostitch MIIIFN Hardwood Flooring Cleat Nailer</a>, which drives 1-1/2" to 2" cleat nails. All metal will corrode over time, but stainless steel offers the best results in avoiding it for the greatest length of time. Particularly if you're in an area that sees a lot of moisture.
Michael A Beck
Mar 30, 2019 08:13
I will be installing a 1/2 composite or engineered hard wood flooring. I read your article and agree that a nailer is the best application. Which cleat type, guage and length would you recommend? What nailer would you recommend? I do have a commercial grade compressor but also would consider an electric model.
Nail Gun Depot
Apr 01, 2019 06:01
HI Michael, thanks for your questions. The nail length will be determined by the floor material manufacturer, so we can't recommend that. As for the tool, we recommend the <a href="https://www.nailgundepot.com/powernail-50fkit-pneumatic-18-gauge-cleat-nailer" rel="nofollow">Powernail 18-gauge Pneumatic flooring nailer</a>, which takes L-shaped flooring nails. The Powernail is suited for engineered flooring.
WC Weatherhead
Feb 25, 2019 07:25
I have an Akuzuki x899 3in1 Flooring Nailer needs repair. Company seems to be out of business. maybe you can help. Is there any current brand that may have used (or manufactured for) Akuzuki that might know where to get parts. Thank you for your help. C. Weatherhead
Nail Gun Depot
Feb 25, 2019 07:51
We're not familiar with that brand. You may find it easier to start with a new tool, as it may be hard to find a repair center for your current tool. We carry <strong><a href="https://www.nailgundepot.com/freeman-tools/flooring-tools" rel="nofollow">Freeman brand flooring tools</a></strong>, including the PDX50C 3-in-1 floor nailer/stapler. Freeman offers good quality, but is not excessively expensive.
I am installing three-quarter inch hardwood flooring on the first floor of my home. I am putting it over a three-quarter inch subfloor. What would be the best tool to use and hardware (nails or staples)and what length.
Nail Gun Depot
Feb 21, 2019 07:06
Hi Armand, we like the <a href="https://www.nailgundepot.com/bostitch-miiifn-hardwood-flooring-cleat-nailer-112-to-2-details.html" rel="nofollow">Bostitch MIIIFN hardwood cleat nailer</a> and the <a href="https://www.nailgundepot.com/powernail-445-pneumatic-hardwood-floor-nailer-112-to-2-details.html" rel="nofollow">Powernail 445 hardwood floor nailer</a>. We recommend consulting with the wood manufacturer on suitable nail lengths for your particular application. Thanks for your question!
I put down a bambo floating floor.It is not behaving very well. It sqeaks and now after three years since intallation it came apart at one place. Also it is shrinkingt on one wall enough that trim won't cover it. Can you nail down a floating floor?
Nail Gun Depot
Apr 20, 2018 10:22
That's a tricky question. Depending on your subfloor material, a flooring nailer can be used to install floating floor (the <strong><a href="https://www.nailgundepot.com/powernail-model-2000f-20-gauge-flooring-cleat-nailer-details.html" rel="nofollow">Powernail 2000F</a></strong> is a great tool for the job). However, if you're looking to do spot repair, a flooring nailer is probably not going to be much help. If you can share a little more information about what you're looking to do, we may be able to give you a better recommendation. Feel free to give us a call at 1.888.720.7892.
Load more comments