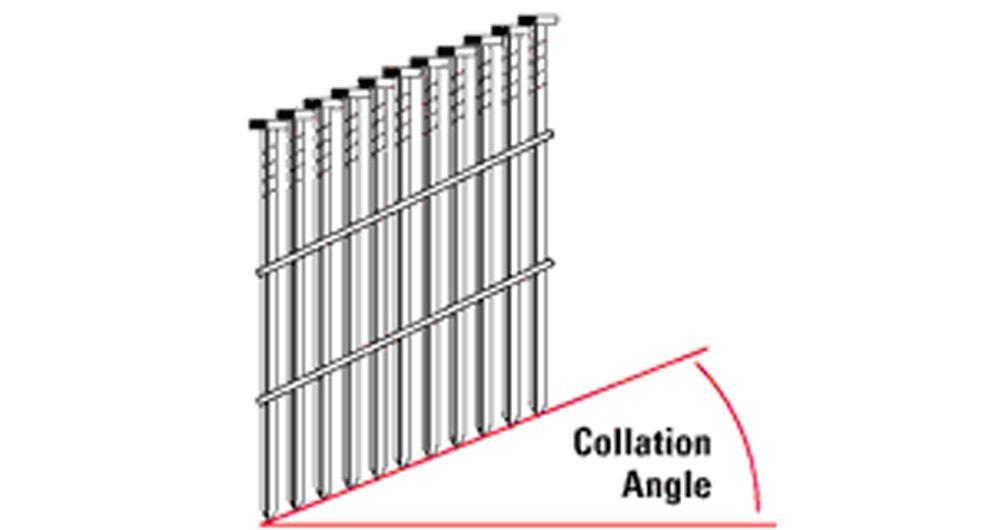 Welcome to the second part of our series on nail components. Last week, we talked about nail types, shank types and point types. If you missed part-one, you can check it out here. In the second half, we are going to look at finish types and the importance of angle.
While the shape of the nail is pivotal to its use, you also want to pay careful attention to the finish. The finish of a nail can determine whether or not it can be used outside, the type of surface it works with and its durability.
Nail Finishes
Bright - This finish is used for your basic hardware nail. There is no coating, it is just plain steel. This finish offers no corrosion resistance, meaning it can not be used on any exterior applications where it will be exposed to precipitation.
Electro-Galvanized - Similar to the bright finish, electro-galvanized nails are coated with zinc via an electrical charge. These provide slightly more corrosion resistance than the bright finish, BUT should still not be used for exterior projects that are exposed to weather.
Hot-Dipped Galvanized - These nails are dipped in liquid zinc to provide good corrosion resistance. The resulting finish is composed of a clumpy, zinc exterior. These nails can be used for exterior applications.
Stainless Steel - This finish offers resistance to corrosion for the lifetime of the nail. Stainless is able to be used for exterior projects and works particularly well with wood such as cedar and redwood. It is popular in markets that have a significant amount of moisture in the air.
Aluminum - This metal offers less durability than stainless, but also boasts a corrosion-free lifespan. It is typically used for applications such as attaching aluminum trims or gutters.
Copper - Copper, being a more expensive material, is typically only used when fastening to other copper materials. It is used more for appearance than utility.
Blue Oxidized - This finish is the result of de-greasing and heat cleaning, which leaves the nail with a blue coating. This finish is typically used with plaster.
Vinyl Coating - Vinyl coated nails provide enhanced holding strength and are easier to drive. The downside to vinyl coating is that these nails are not useable for outdoor or exterior projects.
Cement Coating - The cement (resin) coating is applied to the nail to improve holding strength and can make the nail easier to drive. It should not be used for applications that will be exposed to weather and precipitation, so exercise caution if using for exterior projects.
Phosphate Coating - The use of a phosphate coating improves holding strength and provides an excellent surface – for use with paint or putty. The phosphate attracts paint and retains it better than most other nail finishes.
Nail Angle
The angle of a nail is based on the variation in degree that the nail sits from the vertical (base). The angle of nail required varies from nail gun to nail gun – but typically sits in a range between 15 and 34 degrees – if the nailer is angled. If a nail gun is angled, the manufacturer should list the degree of angle required in the nail gun's specs.
From nails to nailers, there are a plethora of choices to select from when choosing the right tools for your project. We hope that this two-part series on nail components will help you in determining which nail works best for your needs.
We always appreciate feedback and comments. Feel free to reach out to us at [email protected] if you have an idea or request for a future blog post.
Good Luck In Selecting Your Next Nail,
~ The Nail Gun Depot Team
P.S. We will be taking a two-week break from blogging during Christmas and the New Year to observe the holidays and enjoy time with friends and family - Our store will remain open during regular business hours. Keep an eye out for our next post on January 7, 2014.