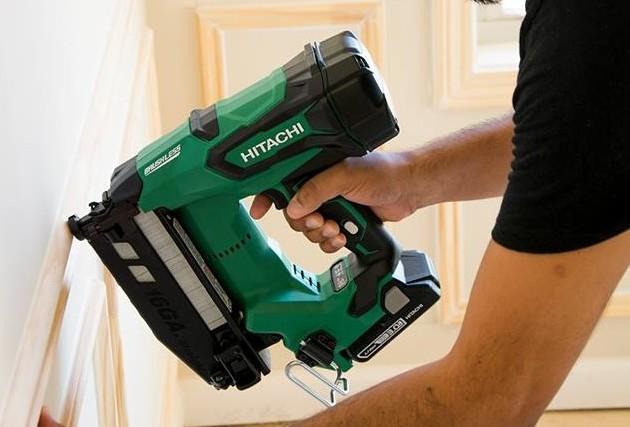 Debating which tool in the Finish Nailer Face-Off is right for your project? Let us help.
For detailed woodwork and trim, where you need more holding strength than a micro pin can provide, a brad nailer is typically the top choice among contractors and weekend warriors alike. Brad nails are formed from a fine, 18-gauge wire, which means they are smaller in diameter and typically have less holding strength. The benefit to an 18-gauge brad is its size. Thanks to a smaller head and diameter, brad nails are easier to conceal in small pieces of wood trim. In fact, there's a good chance you won't even need carpenter's putty to conceal a brad nail after installation. A brad nail's size helps prevent surface splitting, which could occur if the fastener is too large for the item it is nailed to. The only real downside to using a brad nailer and nails, these fasteners do not have the holding strength required for larger, heavier projects - such as large crown molding or baseboards.
While the downside to a brad is its holding power, finish nails are made from heavier 15- or 16-gauge wire, which means they can handle a greater payload. For larger trim, such as baseboards or crown molding, a finish nail is the more suitable choice. However, because it leaves a larger hole in the wood surface, a fully driven finish nail almost always requires followup attention - which includes being puttied over to conceal the "shiner" or exposed insertion point of a nail. A finish nail offers increased support and withdrawal resistance when compared to the brad nail.
Finish nailers will run 15- or 16-gauge finish nails, in both angled and straight varieties depending on the tool. Be sure to confirm whether your tool uses a straight, or angled magazine type. Especially important for 15-gauge finish nailers, determine whether your tool runs "FN" or "DA" type nails, as these fasteners are not interchangeable. Cordless models, such as the Hitachi NT1865DM or the Senco Fusion F-16S (6U0001N), are both excellent examples of 16-gauge straight magazine finish nailers. As mentioned earlier, the one risk to using a finish nailer on small trim; an increased probability for wood splitting and formation of imperfections on the wood surface.
According to Senco, "The initial tool purchased by most consumers is typically some kind of brad nailer for attaching trim molding. Most who have used a hammer to drive small brads know the frustration when these nails bend - not to mention the possibility for damage if using too much force. The brad nailer makes these small trim jobs a breeze, with high-quality results."
The fact is, most carpenters use a combination of finish and brad tools. If you're just getting started, it's probably best to compare your application against the tools you are considering. From there, consider the tool that will suit your overall needs best.
Want more on these tools and their applications? Be sure to check out our video on brad vs. finish nailers; or read more on the difference between finish and brad nailers here.
~ The Nail Gun Depot Team