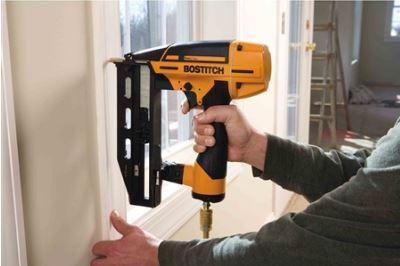 If you're doing simple upgrades around the house, you're most likely shopping for either a brad nailer or finish nailer. So, which one is right for you? To the untrained eye, these tools would appear to be the same, but in reality, each has a different purpose.
Brad Nailers, The Precision Workers
A brad nailer such as the MAX NF255FA pictured above, is designed to run 18-gauge, fine-wire brad nails. These small nails are very hard to drive manually, which makes a brad nailer essential to any major home renovation project where brads are needed.
On top of that, brad nails are almost invisible once they've been driven into wood. In fact, there's a good chance you won't need carpenter's putty to conceal a brad nail that has been driven into trim. The downside is that these fasteners lack the holding strength for larger, heavier projects, such as large crown molding or baseboards.
Finish Nailers, The Heavier Holders
For larger, more bulky wood trim, you will need to use a finish nailer. Finish nail guns will run 15- or 16-gauge finish nails which are slightly larger than a brad nail, giving them increased holding strength. For example, the Bostitch BTFP71917 Smart Point Finish Nailer (shown above) is a 16-gauge finish nailer.
When using a finishing nail gun, you'll almost certainly need to cover nail openings with putty due to the larger fastener diameter. Furthermore, if you try to use a finish nailer on a small piece of trim, there's an increased probability for wood splitting and the formation of imperfections.
Go For Both?
Ideally, you'll want to have both tools handy for projects, especially if you are regularly working with trim and molding. If you have to choose between buying one or the other, your best bet is to start with a brad nailer, as it can handle most light trim work and will require less touch-up after installation.
If you are installing shelving, a mantle or the like, you'll want to go with the higher strength finish nailer. If you only plan to get a finish nailer, keep in mind that it has the potential to split thin wood and might require touch-ups on small trim and lighter duty projects.
While a finish nailer can tackle many of the same projects as a brad nailer, and then some, the brad nailer is best overall on small trim work.
Choose Your Power Source
Once you've determined whether a brad or finish nailer best suits your needs, consider whether a cordless or air-powered nail gun will be the most efficient choice for you. 
For the around-the-house DIY'er, a battery powered brad or finish nail gun is best, as it doesn't require an air compressor and can be used in hard-to-reach places. The cordless Senco Fusion brad nailer (above) drives 18-gauge brad nails with lithium-ion battery power.
For a contractor or individual that has regular use for either tool, consider an air-powered or pneumatic nailer, as they typically offer better long-term reliability than their battery-powered siblings—and don't require recharging. 
---
Shop Nail Gun Depot: