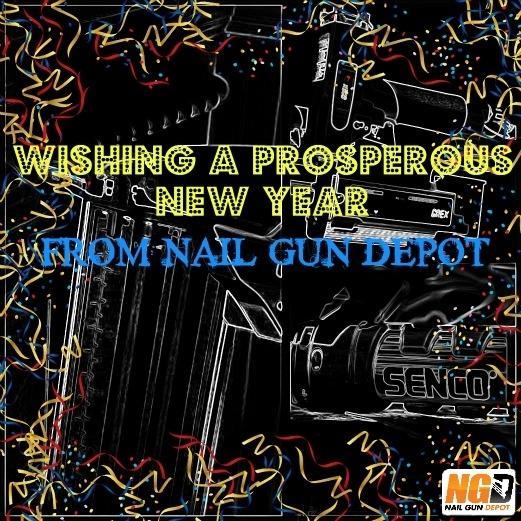 We're at it again, check out some of NGD's latest tool additions - including the new Grex P650LX. A new year means new tools - here on the Nail Gun Network!
If you are using industrial packaging tools, be sure to check out our freshened lineup of Bostitch carton closing staplers and box bottom staplers (also known as post bottomer carton staplers). For low-volume, basic operations, Bostitch now offers the BTFP12180 and BTFP12181 manual carton closing staplers. Both feature a second handle for comfort and are ideal for applications where the stapler will be shared between several different work stations. Manually operated, these carton closing staplers present one of the most versatile options available for low volume carton closing applications. Penetrating clinchers are adjustable for either through or blind clinching and each tool comes with a one-year warranty. The only difference between the two models, the BTFP12180 drives 1-1/4" crown C-Wire staples from 5/8" & 3/4" in length, while the BTFP12181 drives 1-3/8" crown SW9040 Series staples from 5/8" to 7/8" in length.

Looking for something a bit more powerful? The Bostitch BTFP12182 Triple Wall Carton Closing Stapler is designed for high-volume, heavy-duty use. Features on the BTFP12182 include adjustable clinchers for different thicknesses of cardboard and clinch tightness,
as well as the ability to blind fasten double and triple wall cartons. This tool is capable of driving staples up to 1-1/2" in length for up to 1" total cardboard thickness, using
1-1/4" crown SW9060 Series staples
.
A game changer for high-volume corrugated assembly, the
FC96EC electric box bottomer
stapler covers a vast range of cardboard closing applications -
driving
1/2", 5/8" and 3/4" SWC coil staples
.
Perfect for high-volume carton bottom closing, this
box bottom stapler runs 4000 count coil staples designed for high production environments. This staple gun features 24" throat and 40" anvil post height allows most boxes to be stapled in one motion. A clear plastic shield with electrical interlock feature disables the machine when its guard is raised - also featuring an auto-shutoff to reduce machine wear and saves energy.
Just plug this post bottomer in and see the difference.
Bostitch also offers the
F84-138
manual box bottomer
for smaller, less costly operations.
Specific to the floral and dry cleaning industries, Bostitch
has added the P3-IND and

O-2245 plier staplers

. Using a fine wire, lightweight staple, the Bostitch P3-IND is perfect for dry cleaner garment tagging, drugstore bag closure, price tag to garment stapling, flower wrapping, badge and ribbon fastening, and packaging.
Similarly, the 0-2245 is designed for fastening applications within the dry cleaning and floral industries. Both tools are rugged and durable - made to handle several applic
ations.
For pallet and crate builders, Hitachi has released two new tools, the NV65AN and NV75AN coil pallet nailers.
The
NV65AN
coil pallet nailer is designed to drive 15 degree
1-1/2" to 2-1/2" wire coil nails
, from .090 to .099 in diameter. Hitachi's latest offering, this pallet and crate building nail gun comes with a five-year limited warranty from the manufacturer. Bringing power, precision and convenience to the pallet manufacturing industry, this nail gun boasts a lightweight design at only 5.7 lbs. - and is capable of driving nails as large as 2-1/2" x .099 at a rate of 3 per second, making the NV65AN both powerful and efficient. A side load magazine and open nose design offer convenience for reloading and jam removal, while its plastic shield offers safety, deflecting wire collation away from the user. Features such as the 360 ° adjustable air deflector and high capacity magazine bring additional convenience to any pallet manufacturing facility.
The slightly larger
NV75AN
weighs-in at 6.3 lbs., and drives 15 degree
1-3/4" to 3" wire collated pallet nails
, from .099 to .131 in diameter.
The biggest difference between the two tools - range of fastener.
You
can find both of these pallet nailers here.
Last, but not least, we are pleased to announce the pre-release of Grex's all-new P650LX 23 gauge headless micro pinner (replaced by the P650LXE).
An updated and upgraded design, the P650LX boasts the following key features: a one-touch override button that allows use of the 10 remaining reserve pins, a more powerful motor with improved contact safety, auto lock-out to prevent dry firing - includes auto lock-out override, easy load magazine, no-mar tip, rear exhaust with silencer, double trigger safety lock, lightweight aluminum body, swivel air coupler, narrow nose design, and rubber handgrip. Suggested applications for the Grex P650LX micro pinner include light wood assembly, finish and trim work, molding and decorative trim, dowel and joint pinning, mirror and picture frame assembly, lightweight paneling, external softwood trim, rattan furniture, glazing strips, craft work, window beading, signage and more.
The P650LX will not ship until Spring 2015, but in offering the best customer support possible, Nail Gun Depot will accept pre-order reservations from all avid woodworkers who are interested in receiving this pinner as soon as it is available.
 ~ The Nail Gun Depot Team