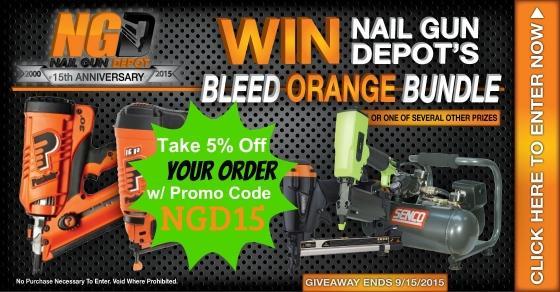 We've come a long way in 15 years. That's been an ongoing theme at Nail Gun Depot this year - a theme that ties directly to our 15th Anniversary Giveaway and the Bleed Orange Bundle. Whether you've been a repeat customer for several years, just placed your first Nail Gun Depot order, or are simply visiting the site because it caught your attention - thank you for joining us in celebrating 15 years of customer satisfaction and support.
Before we announce our grand prize winner, who will receive two brand-new Paslode cordless nailers, we encourage you to read the testimonials. See what others have to say about Nail Gun Depot, our dedication to customer service, and the benefits to ordering from us - including special shipping deals and discounts on volume fastener orders.
Now that we've built suspense - the answer all our contestants have been waiting for, who's taking home the Bleed Orange Bundle? We would like to congratulate Dustin H., who has been drawn as our grand prize winner, and will receive a Paslode CF325-Li cordless framing nailer (902600) (replaced by

Paslode CF325XP - 905600

) AND a Paslode IM250A-Li

 

cordless 16 gauge finish nailer (902400), compliments of Nail Gun Depot.
We would also like to congratulate our three other winners:
Rick R., who won a Grex P650LX 23 gauge micro pinner as our first place winner,

Ray K., who won a Senco PC1010 air compressor as our second place winner,
And John F., who won a Freeman PFWS air stapler as our third place winner - compliments of Freeman Tools.

A final thank you to all who who participated in our anniversary giveaway. Please remember to make Nail Gun Depot your year-round source for tools and fasteners.