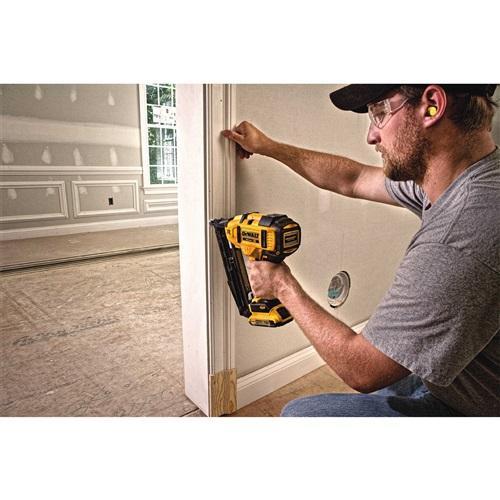 When it comes to cordless power tools, options are far from scarce. As of recent, this is especially true for woodworkers and their nail guns. An industry traditionally powered by pneumatics, cordless nailing has quickly gained a reputation for longer-lasting, more powerful batteries. Without a doubt, cordless nailing has earned its place as a serious contender for the traditional air compressor - air hose configuration.
So why buy a cordless nail gun?
For some, a legacy of durability, power and quality is enough to keep long-time woodworkers, carpenters and building framers happy with their air-powered tools. And, for those who tested the first prototype cordless nailers of the late 1980's or 1990's, they wouldn't be wrong having reservations. The difference now, cordless technology has evolved to a comparable level of reliability and power - as compared to the same pneumatic tools responsible for making collated fastening systems what they are today.
With battery-powered tools no longer a concern for quality, rest assured that your cordless nailer is completely capable of the challenges ahead. New technology includes a variety of long-lasting, lightweight 18V batteries from Hitachi, Senco and others of the like. Dewalt recently launched their FLEXVOLT cordless system, which offers up to four times a traditional battery charge, with 6.0 Amp Hours of power stored up. Grex even offers a cordless brad nailer, which runs on regular AAA batteries and fuel cell.
What's the benefit to cordless?
Versatility. The number one benefit to cordless - besides looking tech savvy - is limitless boundaries in where the tool can be used. As long as the battery is charged, your cordless nailer has no restrictions. No hose. No cord. Pure freedom. Whether you need the extra length an air hose can't provide, or you need to squeeze into a tight corner, cutting the cord eliminates these limitations. With car charger adapters, and quick-charge stations, most major brands in cordless are able to stay up-and-running with minimal delay.
While cordless technology has advanced tremendously in the last few years, there are certain areas where air-powered tools have an edge on cordless. The main downside to cordless - cost. Look to spend over $100 more on cordless nail guns, when compared against a comparable pneumatic model. If you shop right, you may find a deal, such as Nail Gun Depot's Finish Nailer Face-Off, where you can find added value in buying cordless, like a free spare battery or similar.
With weight, size and driving power typically no longer an deterrent for cordless, thanks to slimmer batteries with improved lithium-ion cells, there should be little concern. However, expect a cordless nailer to be slightly heavier than a pneumatic nailer of comparable design.
One last area to consider, some brands, such as Paslode and Grex, require compressed gas fuel cells in addition to battery power. While the industry seems to be gradually shifting away from use of fuel cells, some brands still require them. Fuel cells range in lifespan and cost, but typically aren't a deal breaker for someone going cordless.

Is now the time to cut the cord? Let us know.

~The Team At Nail Gun Depot