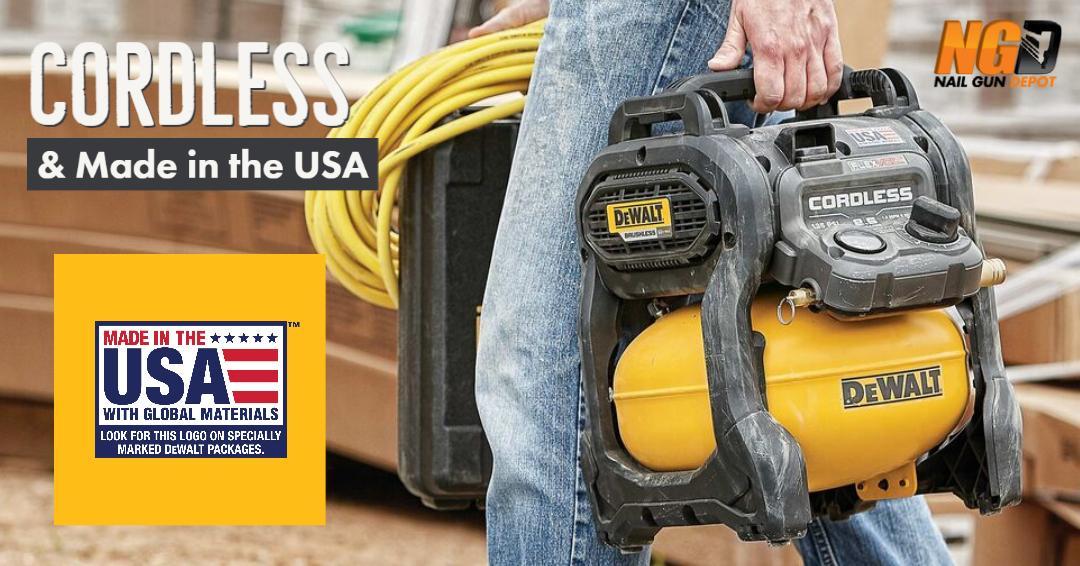 As we celebrate our nation's independence this Fourth of July, it's the perfect time to support brands and products that come directly from the hands of American workers. The National Association of Manufacturers recently predicted an exciting trend — an increasing number of companies are reshoring their production to the United States.
[source]
In honor of this resurgence and in the spirit of Independence Day, we're highlighting several Nail Gun Depot partnering brands that are keeping American manufacturing robust and Made in the USA.
But what does it mean when we say a product is 'Made in the USA'? Well, it signifies that the final assembly or processing of the product occurs right here in the United States. This doesn't just mean the product is packaged or labeled here, but that it undergoes significant processing on American soil. Furthermore, when we talk about 0American-made products, we're often referring to items where all, or the vast majority, of the components are also made and sourced in the US. In essence, 'Made in the USA' represents a commitment to American labor, American parts, and American innovation.
Paslode: A Pioneer in American Manufacturing
Let's begin with Paslode, a pioneer in the realm of pneumatic fastening tools and nailers. The majority of Paslode products are produced right here in the USA, demonstrating a firm commitment to domestic manufacturing. With four manufacturing plants across the country, Paslode's tools are not just a part of American tool chests, they're also a significant contributor to the strength of American industry.
DeWalt: Crafted with Pride in the USA
DeWalt, one of the most iconic names in the tool industry, proudly displays the "Made in the USA with Global Materials" stamp on many of their products. When purchasing DeWalt products, look for this logo on specially marked packages to support their commitment to American assembly. One standout product is the DeWalt DCC2560T1 FLEXVOLT 60V MAX 2.5 Gallon Cordless Air Compressor Kit. Not only is this compressor impressive in its functionality, but it's also proudly made in the USA, a testament to DeWalt's ongoing commitment to American manufacturing.
RolAir: High-Quality Compressors, Assembled in America
RolAir is another brand that warrants a salute this Fourth of July. Renowned for their high-quality wheelbarrow compressors and other stationery units, RolAir is headquartered in the heart of Wisconsin. Most of their stationary units are welded and meticulously assembled right here in the USA, demonstrating a firm commitment to American craftsmanship. But their dedication doesn't stop there. Each compressor undergoes rigorous testing and inspection at their factory, ensuring you receive a product that embodies the resilience and quality associated with American manufacturing.
Occidental Leather: Hand-Crafted Excellence from California
Occidental Leather has been crafting top-notch tool belts and pouches since 1980. Operating out of Sonoma County, California, their handcrafted products are an emblem of American quality. Assembled entirely in the US, Occidental Leather's tool belts aren't just utilitarian – they're a tribute to American craftsmanship. They are the creators of the XL Framing Tool Belt Set, made entirely in America. This isn't just a tool belt – it's an emblem of American craftsmanship ready to serve you at every job site!
Stiletto: Hammering Home American Quality Since 1849
Ready for some more history? Stiletto, founded in 1849, is as American as it gets! They've been making top-of-the-line, all-titanium, and hickory-handled hammers in the USA for decades. Their all-titanium TI-BONE™ Hammers, and hickory-handled hammers made with USA Hickory, are a testament to their commitment to American materials and manufacturing. Crafted in the USA for decades, these striking tools are not only powerful and durable, but also representative of Stiletto's legacy in American manufacturing.
Senco: Holding America Together One Fastener At A Time
Senco, an established name in the fastening industry, recently enhanced their American manufacturing footprint, growing their commitment to assembling tools in the same location they are engineered - Cincinnati, Ohio. Already offering some of America's ONLY collated nails and staples, formed and manufactured from USA sourced steel, Senco now manufactures two nail guns – the FN91T1 and the FN81T1 – marked as "Built in the USA with Global Materials." Senco continues to grow their American Made footprint, reshoring more of their manufacturing processes and embracing American craftsmanship from start to finish.
Powernail: Flooring the industry since 1946
Now let's take a moment to appreciate Powernail. Since 1946, these folks have been leading the hardwood flooring industry. They're crafting tools and nails right here in a state-of-the-art, 120,000-square-foot manufacturing facility in Illinois. It's as wholesome as a Chicago deep-dish pizza and twice as satisfying!
Looking to add some red, white, and blue to your toolbox? Click right here on Nail Gun Depot, your one-stop shop for these fantastic brands committed to American manufacturing.