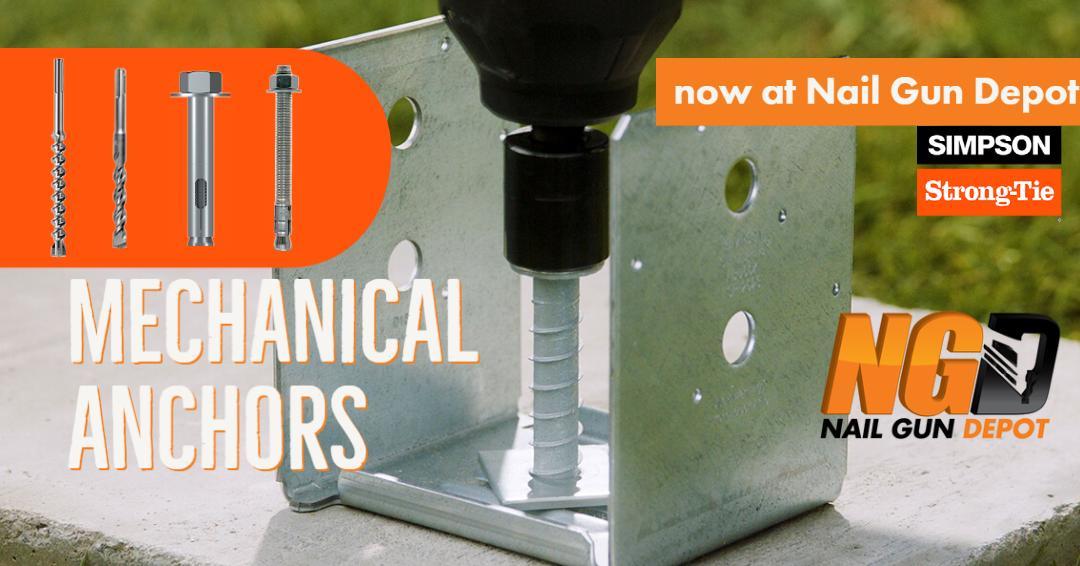 Simpson Strong-Tie - A Legacy of Innovation and Community Support
For over six decades, Simpson Strong-Tie has been a driving force in the construction industry, providing innovative solutions that go beyond just being functional. With a history of giving back through various community outreach programs and support for education and safety initiatives, the company's ethos resonates with a sense of responsibility and compassion. In this article, we explore Simpson Strong-Tie's Mechanical Anchoring Systems, showcasing their complete line of concrete construction anchoring systems, cast in reflection of the brand's commitment to quality, performance, and community well-being.
Unlock the Power of Simpson Strong-Tie's Mechanical Anchoring Systems
Sleeve-All® Sleeve Anchors: Strength Meets Convenience
Simpson Strong-Tie's Sleeve-All® Sleeve Anchors are the perfect addition to every professional contractor's toolkit. Engineered with strength and convenience in mind, these expanding anchors are pre-assembled and can tackle all types of solid base materials. Whether it's concrete, masonry anchoring, fastening, or restoration, Sleeve-All® anchors make the task hassle-free. Available in various styles such as acorn, hex, rod coupler, or flat head, these anchors are designed for an extensive range of applications, making them indispensable for development sites.
Strong-Bolt® 2 Wedge Anchor: Built for Performance and Reliability
The Strong-Bolt® 2 Wedge Anchor is the gold standard for professionals who demand the highest performance in even the most challenging environments, including seismic and high-wind conditions. Its top-notch design eliminates mushrooming and facilitates secondary expansion upon installation. Cracks in concrete are no match for this robust fastener. The Strong-Bolt® 2 carries the load seamlessly, making it a top choice for both cracked and uncracked concrete and masonry applications. Depend on Strong-Bolt® 2, and witness the superior performance that crushes the competition.
Titen HD® Concrete Rod Couplers: Your Answer to Seismic Safety
When it comes to creating buildings that can withstand seismic activity or wind events, the Titen HD® Rod Coupler is a must-have. Designed to attach threaded rod to concrete, it provides a quick solution to design challenges in multi-story buildings. Ensuring safety and structural integrity has never been easier or more accessible.
Product manager, Scott Park describes the new Titen HD mechanically galvanized screw anchor as "Code listed and cost effective for heavy-duty anchoring indoors and out, the [anchor] provides the strength and corrosion protection contractors need when building in exterior environments or in applications where anchors are coming into contact with treated lumber, […] Along with proven strength and reliability, the Titen HD is easy to install, making it a versatile solution for a wide range of job site anchoring needs." [source]
Titen HD® Countersunk Head Concrete Anchors: High-Strength Anchoring with Style
Explore Simpson Strong-Tie's Titen HD® Countersunk Head Style Heavy-Duty Screw Anchor, the original high-strength anchor preferred by professionals. Ideal for a flush-mount profile, it is perfect for cracked and uncracked concrete and masonry applications. With qualifications for static, wind, and seismic loading conditions, the Titen HD® Countersunk Head anchors are essential on development sites. Browse our extensive catalog of Zinc Plated and Stainless Steel anchors - there's an option for all needs.
Titen HD® Heavy-Duty Concrete Screw Anchors: Efficiency and Performance Combined
The Titen HD® Heavy-Duty Screw Anchor delivers unparalleled performance for cracked concrete and uncracked masonry applications. With 50% less torque needed than competitors, Titen HD® ensures ease of installation without compromising strength. Whether it's Hex-Washer-Head Zinc Plated, Galvanized, or Stainless Steel anchors, Titen HD® offers the right solution for everyday concrete construction needs.
Titen Turbo™ Concrete Screw Anchors: Innovation at Its Best
Simpson Strong-Tie's Titen Turbo™ Concrete and Masonry Screw Anchors are engineered to overcome the challenges posed by cracks in concrete. The innovative Torque Reduction Channel traps drilling dust, reducing binding, stripping, and snapping. From wood-to-concrete to wood-to-wood anchoring, Titen Turbo™ offers quick installation and robust strength, featuring a serrated leading edge to cut into materials effortlessly.
Simpson Strong-Tie's Mechanical Anchoring Systems present an extensive array of solutions engineered for modern construction. With products ranging from the versatile Sleeve-All® anchors to the seismic resilient Titen HD® series, and innovative solutions like Titen Turbo™ Concrete Screw Anchors, these anchors meet diverse demands with unparalleled quality and performance. By intertwining innovation with community values, these anchoring systems offer not just robust and unique construction solutions, but also a commitment to excellence and community well-being. Easy accessibility through www.NailGunDepot.com ensures these industry-leading concrete construction products are as readily available as they are reliable. Explore these cutting-edge solutions today, and elevate your construction projects with a brand that embodies integrity, innovation, and care for the community.