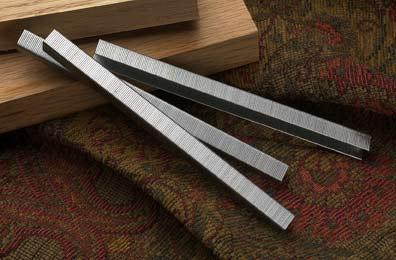 The holiday season is now in full-swing, so what are you doing to make merry this year? Depending on where you live, it's probably too cold to work outdoors (unless absolutely necessary) - which means it's the perfect time to get projects done around the house, in preparation for visiting friends and family. You might not have time to renovate the entire bathroom or put in a new kitchen, but consider these simple weekend projects that can spruce up your home - and even add value.
Add a chair rail in the dining room:
The dining room is one of the busiest rooms in many households during the holidays. Between family dinners and holiday parties, it's certain to see a lot of traffic from your guests.
Installing a chair rail can serve more than one purpose in your home - it not only adds detail to the room, it also helps to protect your walls from scrapes and scratches. Using a Brad Nail Gun can help you complete this project with ease. Depending on the size of your dining room, installation can be completed in a relatively short amount of time, leaving your room with an added detail that improves its form and function.
Tip: Make sure the rail is level before attaching. This is a simple step that is often overlooked, but can save time and money in the long run. If your home has crown molding, try to match the color and style of the rail for continuity.
Redecorate with reupholstered furniture:
Whether you're sick of that beat up coffee table, or just need more pizzazz in your home, creating an upholstered ottoman, from a salvaged pallet, is an easy weekend project. It's a little bit carpentry and a little bit upholstery. The biggest benefit in creating your own upholstered coffee table (or dog lounger) is that it's custom - you choose the fabric and the details. Inspiration can come from a photo. It can be as simple as that.
For step by step instruction, Shelly Leer of ModHomeEc (soon to be Home Room) breaks it down from start to finish in her guest post: "How To Build & Upholster Your Own Salvage Pallet Ottoman". Be sure to pay careful attention to the way she uses her BeA 71/16-436LN long nose upholstery stapler.
Build a new mantel for the fireplace:
This might be a bit harder for the average DIYer, but can add tons of character to your home if completed properly. If you don't have a fireplace, you can improvise by building shelving to display decorations and other knickknacks.
Design the mantel to fit your style and character - there are a lot of sites online that can fuel your inspiration. Once you have selected the perfect design for your home, plan to invest at least five to ten hours (or more) into this project.
A finish nailer, such as the Bostitch N62FNK-2 will most likely be your tool of choice when assembling the big parts - although you might also consider a Pin Nailer, such as the Grex P650L 23ga. Pinner, if attaching smaller, more intricate details - such as trim.
Tip: Some people prefer to paint their mantel rather than stain it; keep this in mind as you visualize what the finished project will look like. Depending on the design you choose, you might have to paint or stain the materials prior to assembling.
Good Luck & Happy Holidays,
~ The Nail Gun Depot Team