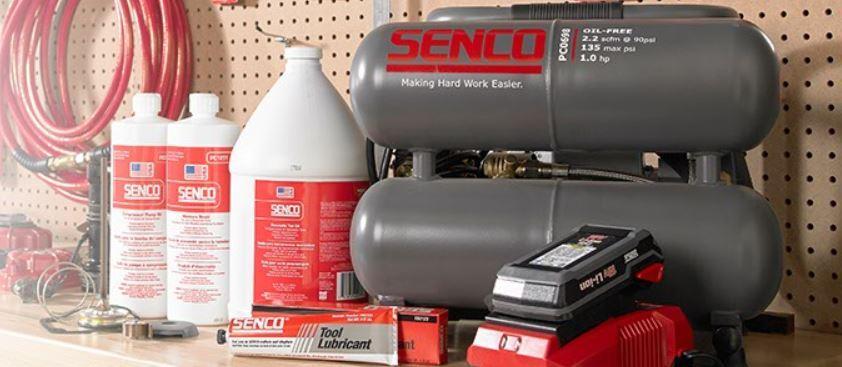 If you're using pneumatic tools, there's no avoiding the need for an air compressor. But when it comes to compressors, you'll find they come in a variety of shapes and sizes - so how much compressor do you really need? Use these simple guidelines to determine which air compressor suits your needs best.
In most scenarios, a portable hand-carry compressor will provide more than enough power to keep your pneumatic fastening tool up and running. Take this for instance - a small 1HP portable unit (delivering 2.0 CFM – cubic feet of air per minute) allows a large nail gun to operate at about 15 nail drives per minute. That same compressor will run a medium-size finishing nailer at about 30 nail drives per minute, and will run a small brad nailer at over 70 drives per minute. So as you can see, the specs of the tool will ultimately dictate the air compressor's performance.
Each tool takes a "breath" of compressed air, which then provides the driving force necessary to sink each fastener. The larger the pneumatic tool, the more air it requires to operate, which is also known as "air consumption per cycle".
PRO TIP: If you divide the air consumption per cycle into the CFM of any given air compressor, you will determine the possible drives per minute. This simple calculation should tell you if the compressor is able to properly power the tool you are intending to use.
All that's left to do is determine how quickly you're planning to run the tool. A professional construction contractor may need the extra juice to operate one - or more - large tools at a high rate of speed. In this instance, a wheelbarrow compressor (either gasoline wheeled or electric wheeled compressor depending on preferred power source) will provide the necessary power required. If similar output is required, but the application is in a fixed location (think assembly line), a large stationary compressor may also work.
For those running one or two smaller air tools, a portable electric compressor should provide more than enough energy - especially if used with an additional expansion (holding) tank of air. If you are running several small to medium-size air tools, you'll want a compressor rated for 4.0+ CFM. If you're looking to run a finish and trim tool (or similar) individually, a 2.0+ CFM compressor should provide ample power.
For easy reference, we've included this handy chart below, provided by Senco.
Which compressor will best suit your project?
~The Nail Gun Depot Team