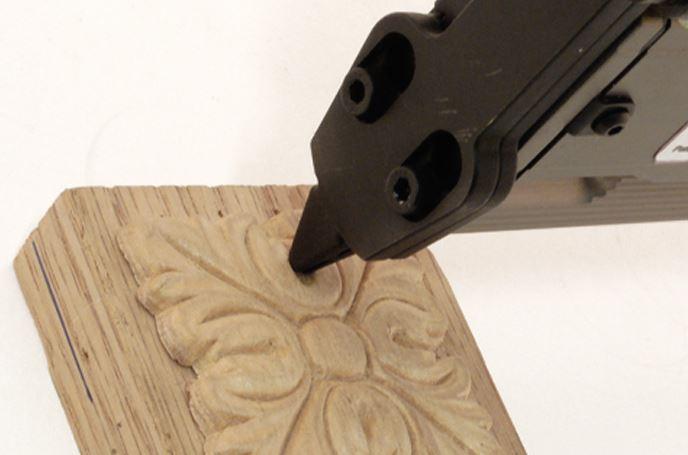 The micro-pin nailer reigns supreme, as tool of choice for trim carpenters, finish woodworkers, and anyone else who works on cabinets, finish and trim, picture frames, and light furniture assembly. While these tasks don't require a lot of holding power, they do require a nail that leaves virtually no footprint and won't split wood. So, which 23 gauge pin nailer do you choose?
To help in the decision making process, we're comparing the Metabo HPT NP50A, Cadex V2/23.55A, and Grex P650. Each of these micro pinners drive a 23-gauge headless pin nail of 2" or more in length. While the tools naturally share some features, it's really about the details—and which can best suit your particular needs.
Metabo HPT NP50A PRO Micro-Pin Nailer (1/2" to 2")
Released in late 2018, the Metabo HPT NP50A micro-pin nailer is the newest of the three. Metabo HPT says the NP50A was "designed with the professional carpenter in mind."
This young-gun was designed specifically to compete against the industry leaders at Grex and Cadex. On the Metabo HPT 23 gauge pin nailer, you'll find a built-in silencer for quiet operation, dry-fire lockout that activates when 6 or fewer nails are left in the tool, and a removable nose to easily clear jammed nails. An aluminum magazine ensures durability and helps prevent fastener overlap, which can lead to nail jams in the first place.
For precision nailing, the tool has a dual-sequential trigger, so each of the two triggers must be pulled to drive a nail. The micro-pin nailer— weighs 3.3 lbs and has a 5-year manufacturer warranty. It includes belt hook, non-marring tip, hard plastic case, and safety glasses. ($183 at Nail Gun Depot*).
5 Fast Stats:
• 10.25"L x 2.25"W x 9.6"H
• 3.3 lbs. (without hook)
• 360° adjustable exhaust
• Built-in silencer
• Dry-fire lockout
Cadex V2/23.55A Micro-Pin Nailer (1/2" to 2-3/16")
Debuting in late 2015, the original Cadex V2/23.55 was the first tool in the brand's V2 body platform. The newer V2/23.55A micro-pin nailer is an upgrade from that original model. This micro-pin nailer drives both pin nails and slight-head brads from 1/2" up to 2-3/16".
The V2/23.55A holds a lot of fasteners thanks to a 120-nail capacity magazine. You can keep an eye on fastener level with the magazine's site window. The tool also has a no-mar plastic nose, reverse contact safety, and a convenient, built-in blower for clearing away dust and other small debris.
A unique feature on the pinner is its non-slip paint, which replaces the thicker rubberized grip common with most tools. The paint also serves to keep the grip cooler to the touch in warm temps and warmer during cold. This means the handle is thinner than on a typical micro-pinner. The V2/23.55A micro-pin nailer includes no-mar rubber tips, swivel coupler, belt hook, and built-in bottle opener. ($269 at Nail Gun Depot*).
5 Fast Stats:
• 9.2"L x 3.1"W x 9.5"H
• 2.6 lbs.
• Magazine sight window
• Built-in blowgun
• No-slip silicone paint
Grex P650 Micro-Pin Nailer, 3/8" to 2"
Grex calls the P650 micro-pin nailer "the trim carpenter's best friend." This finishing nailer has a special high-tolerance "Posit-Lock" nose cover designed to reduce nail jams and increase durability and functionality. Another notable feature is the alignment guide, which allows for precise fastener placement. Like the Metabo HPT micro-pinner, this one has a 100-nail capacity, built-in silencer and double trigger, but it weighs a little less.
Along with the Cadex tool, the P650 features a magazine site window, swivel coupler, and a 1-year warranty. This tool is merely 1.5" wide, making it the slimmest of the three finish nailers. It drives headless pin nails from 3/8" to 2" and conveniently auto-adjusts for different nail lengths, thanks to a stair-stepped magazine. Includes plastic no-mar tip and carrying case. ($268 at Nail Gun Depot*).
5 Fast Stats:
• 7.75"L x 1.5"W x 8.75"H
• 2.68 lbs.
• Auto-adjust mechanism
• Alignment guide
• Exhaust silencer
Hitting the (Pin) Nail on the Head
There are so many 23-gauge pin nailers on the market, and these are just a small selection. It's important to note the details of each before you invest. Each of these 23-gauge micro-pin nailers boast a durable aluminum magazine. They're each approximately 3 lbs., with the Metabo HPT weighing slightly more than the others.
The least expensive of the trio at under $200, the Metabo micro-pin nailer, also has the most generous manufacturer warranty. The Cadex and Grex pinners are closer in price and both are backed by one-year warranties. The Grex has an auto-adjust feature to accommodate a range of nail lengths, for less stopping and starting. 
The Cadex micro-pinner drives the longest nail length at 2-3/16". It has a handy built-in blow gun, as well as a special non-slip paint that keeps the grip temperature-friendly. And, of course, a built-in bottle opener, for those who require immediate refreshment.
Which micro-pin nailer would you choose? Leave a reply in the comments, below.
*Note: Prices are subject to change, but current as of May 2019.
---
Shop Nail Gun Depot: