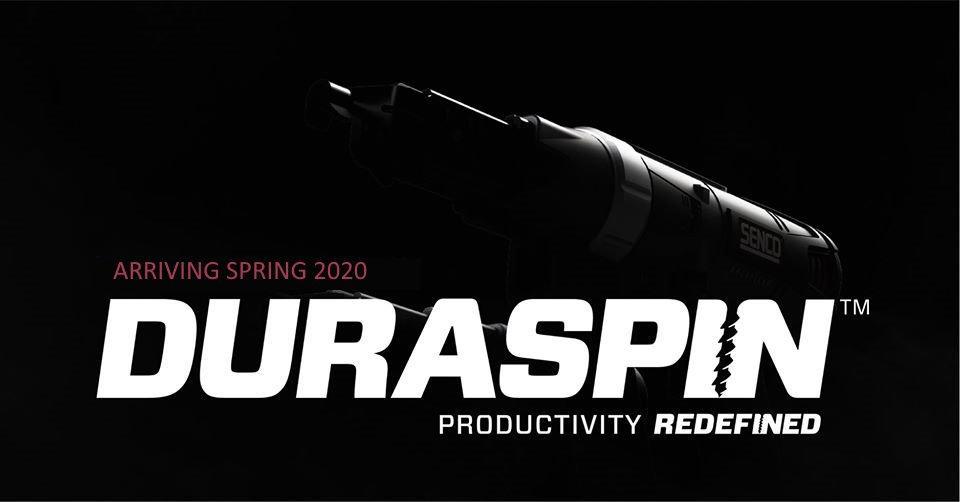 First introduced in 2000, Senco revolutionized the collated screw market with its DuraSpin (DS1) line. Utilizing proprietary technology, they created a completely integrated auto-feed screw system. Twenty years later, and they're at it again - introducing a new and improved DuraSpin System.
Unlike its 14 Volt, twenty-year old counterpart, the new DuraSpin features 18 Volts of raw lithium-ion power. A better battery, updated mechanics, and the vision for versatility come together to form a new, better DuraSpin auto-feed tool.
In 2013, when Senco released their second iteration of the DuraSpin System (DS2), a patented feed system, corner-fit accessibility and application-specific features were introduced. Innovative for its time, the twentieth anniversary of DuraSpin's debut improves on these innovations, engineered into Senco's most user-friendly screw system yet.
While the new DuraSpin looks very similar to its second generation predecessor, the new DS3 is set to take performance and versatility to a new level.
DuraSpin Offers Brains and Brawn
The new DuraSpin DS3 line is comprised of two product types - the first being Senco's standard auto-feed screwdriver. An all-in-one solution, simply pick the model that best suits your project type, charge the battery and load plastic collated DuraSpin screws, and you're ready to run.
Powered by an efficient brushless motor, this auto-feed screw gun includes two extended life 3.0 Ah batteries, a quick release feed system with Senco's patented corner fit technology, and feed on return - allowing the next screw to align with the bit, for better line of sight and more accurate screw placement.
As with generations past, Senco offers high torque models (2" and 3") for heavy steel, along with a high speed model (2" only) for drywall and wood based applications. Unlike the previous generation tools, the new DS3 DuraSpin line comes exclusively married to a 3.0Ah extended life, lithium-ion battery - electric cord is no longer an option. While this does eliminate the budget-friendly, corded version, most users prefer the improved versatility that comes with a cordless platform.
Senco will offer the following 3 variations of the new cordless screw system:
An Attachment For Your Driver
Convert a standard screwdriver into an auto-feed screw system in seconds. Ideal for drywall (into wood or steel studs), metal framing, sheathing, cement board and more, Senco has completely revamped their DuraSpin attachments. Available in four variations, there's an attachment for Senco drivers, an attachment for select Makita drivers, and two attachments for various Dewalt drivers.
Unlike the DS2 attachments, new DS3 DuraSpin attachments allow for easy installation to the corresponding driver motor. No more adapters - simply attach and detach as needed. Also present, Senco's patented corner-fit feed system, feed on return for quicker driving intervals, adjustable depth-of-drive with depth lock, and adjustable nose piece. All constructed on a durable metal frame.
Here are the 4 attachments Senco will offer at launch:
Why Upgrade?
If you're new to DuraSpin, going for the DS3 line should be a no question. You get the latest and greatest technology, for roughly $100 more than the DS2 auto-feed tools retail. If you're already running a DS2 DuraSpin screw gun, but need more battery-life and want to spend less time charging up your auto-feed tool, DS3 may be the solution.
For those who already have a (compatible) driver, but need the auto-feed attachment - DS3 will prove infinitely more worthwhile than previous generation attachments. The improved plug-and-play compatibility of the new DS3 attachments make installation a breeze.
At launch, the attachments will be available on Nail Gun Depot for a very reasonable $125 each, while the 2" auto-feed screwdrivers run $399. For $10 more, you can have the 3" auto-feed screwdriver. Post launch, look for a variety of bits, nose pieces and accessories to be available as well.
Final Thoughts
When will the DS3 DuraSpin tools arrive? Senco has indicated the first shipments should arrive sometime between Mid-Mach and April, 2020. While this timeline may fluctuate a bit, we should see the new DuraSpin just in time to put it to the test for Spring build season.
If you're not a fan of the higher price point that comes with the new line of DuraSpin, you're in luck. Senco will continue to offer DS2 second generation DuraSpin tools for the indefinite future. While there's no guarantee how long the previous model will remain in the lineup, there's no immediate plans to kill off the previous model(s).
Is it worth upgrading? Let us know your thoughts below.
---
Shop Nail Gun Depot:
Senco DuraSpin Tools & Attachments