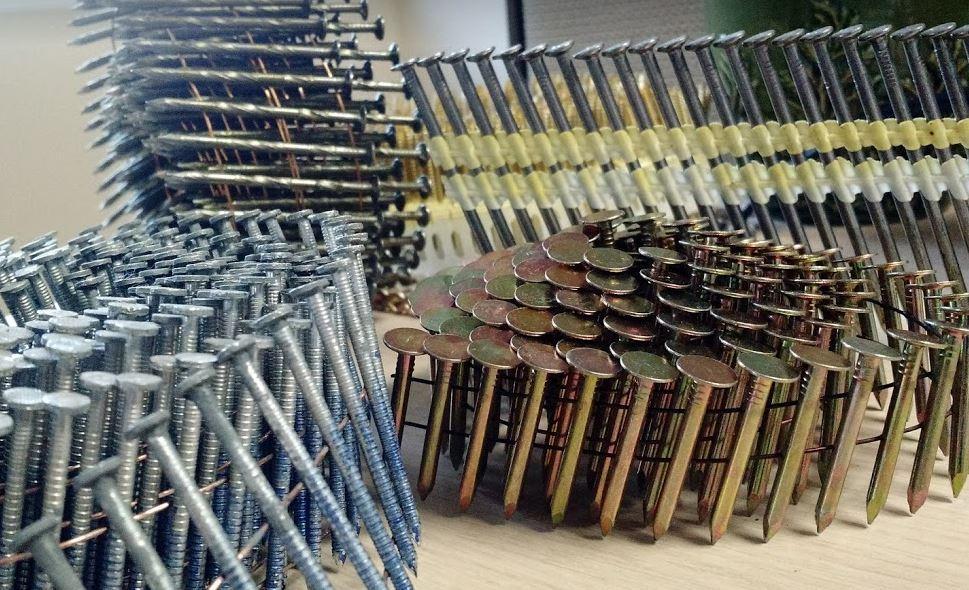 Often a make-or-break factor in roofing, pallet assembly or framing projects, nail shank type plays a critical role in U.S. building code. Using the wrong shank can leave you with a damaged roof, squeaky subfloor, or worse. The following are the most common gun nail shank types found in construction. Learn which is best for your job—and why.

Smooth Shank Nails
Let's start with the most common nail shank type. Smooth shank nails have no threading and are the easiest to drive. This also makes them the fastest type of nail to drive. Depending on strength and makeup, they can be driven into nearly any surface, and are suitable for a wide range of everyday construction applications—from framing to finishing.
Pro Tip: Consult with building codes and material manufacturer guidelines before starting a project, to determine if you need to use a certain kind of nail or other fastener. You can also check with the International Code Council (ICC) construction-related specifications. 
As you might imagine, smooth nails are the easiest shank type to produce, and thus, among the most affordable. What smooth shank nails offer in versatility, however, they lack in optimal holding ability. So you wouldn't use them for jobs like roofing, where greater pull-through or withdrawal resistance is needed.
Applications: Framing, Siding, Trim and Finishing, General Woodworking

Ring Shank Nails
Ring shank nails have annular (ring-shaped) threads on them that prevent them from being removed as easily as smooth shank nails. When driven, the thread creates a "locking" effect with wood fibers, which gives it greater resistance from withdrawal.
The ICC considers this and other nail shank thread types as "deformations." According to the International Staple, Nail and Tool Association (ISANTA), "The most common method to make a "deformed" shank is to start with smooth round wire that has been drawn down to the nominal diameter of the finished nail. During the manufacturing process, special machinery rolls and compresses the steel to "deform" the smooth shank into the desired shape:  ring, screw, etc."
So in other words, the term "deformation" is not a negative one. It simply describes the fact that threaded shank nails differ from smooth shank nails, which have what's considered a "regular" formation.
If you're driving nails into a material where expansion and contraction is an issue (such as with subfloors, or where fasteners are exposed to the changing elements), you'll want ring shank nails. Ring shank nails are great for surfaces exposed to high winds that might pull out a common nail. They're ideally suited for softer woods that might otherwise split when nailed.
Applications: Siding, Roof Decking, Asphalt Shingles, Underlayment, Subfloors (See Installing Subfloors: Nails Vs. Screws.) 
Screw Shank Nails
Screw shank nails combine the benefits of a nail with those of a screw. You get the ease of drive that a nail offers, and approximately the same holding power as that of a screw. The thread forces the nail to turn as it's driven, essentially forging its own thread in the wood. As with ring shank nails, the threads create a locking effect that makes the nail more difficult to remove.
This type of nail takes more force to drive than both smooth and ring shank nails, but provides greater pull-through resistance than either. While ring nails are more suitable for softer wood species, screw shank nails are ideal for hardwoods. A longer, more complex manufacturing process (and increased holding power) means that screw shank nails are generally more expensive than smooth and ring shank nails too.
Applications: Decking, Flooring, Pallet Assembly, Siding, Fencing, Framing, Sheathing
Helical & Other Nail Shanks
Specifically designed for use with hard yet brittle materials, such as concrete or brick, masonry nails are hardened to prevent bending or breaking when they're driven. Rather than a threading, as with ring and screw shank nails, fluted shank nails feature linear grooves that allow them to be easily driven without breaking apart the concrete. You may also see the term helical nails, which are also used for concrete and steel. 
Applications: Furring, Floor Plates, Drywall Track To Concrete, Steel Beams
There are other specialty types of nail shank, such as barbed shank, helical threaded shank, stepped-shank, knurled shank, and others—each designed for specialized applications. To further sharpen your nail knowledge, read more about nail components.
---
Shop Nail Gun Depot: