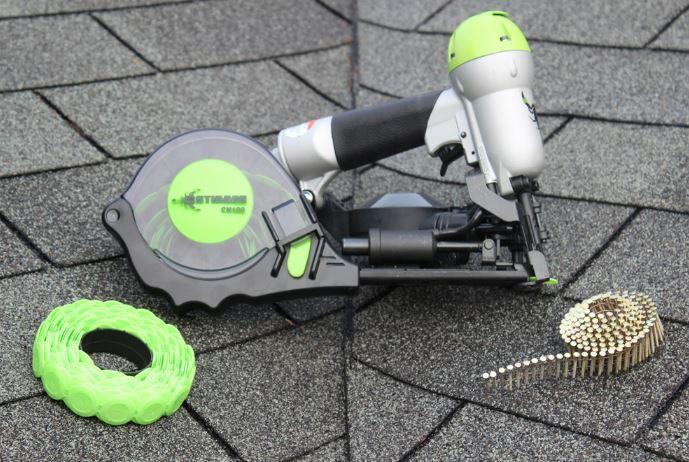 If you work with housewrap or roofing underlayment, and still use a manual slap stapler, it's time to upgrade. After all, who wouldn't want to improve their workmanship, while increasing job site productivity? The solution is simple - add a cap nailer or cap stapler to your gang box.
What's the benefit of a cap fastener, versus a standard nail or staple? With a fastener and cap system, the cap helps protect and expand the surface area (holding power) of the fastener. This means the fastener is better able to withstand harsh weather conditions - protecting the housewrap or fabric from separating and tearing.
Many manufacturers require capped fasteners be used with their wrap or felt, due to the increased strength and protection they provide. Cap tools can also be used for a variety of other applications including foam board installation, carpet padding and more. In other words, these tools are perfect for installing soft, dense material.

If you're looking at cap nailers, you have a couple options to choose between. A popular choice among roofing contractors, consider the Stinger CN100. Similar to a cap stapler, cap nailers are perfect for roofing, sidewall and insulation board. Just be sure to confirm with the material manufacturer, whether a nail or staple is required for your application.
For commercial roofing applications, where volume and speed are top priority, the Stinger RT3 (formerly RT2) is one of the best options we've come across. Simply walk the tool along the line you are cap nailing, and let the tool do the rest.
When it comes to cap staplers, you'll have more than a few options to choose from. Look to Senco's BC58 cap button stapler, Hitachi's N3808AP cap stapler, Pneu Tools Rap-A-Cap 58 (RC-58), and of course, Stinger brand cap tools - including the CH38-2 (manual fire), CH38A (auto fire) and CS150 (replaced by the CS 150B) (air-powered) cap tools. Once again, material and surface fastening requirements will dictate whether a staple or nail is best suited for your job.

Before you buy a cap tool, be sure to consider the following:
Manual vs. Auto-Firing Tool

Tool Weight & Balance

Tool Maneuverability
The benefit to a manual cap stapler, such as the Stinger CH38-2, the tool is lightweight and smaller in size - which makes it easier to maneuver.
On the other hand, pneumatic cap staplers are bulkier in design; typically weighing
bet

ween four and five pounds - before caps and staples have been loaded.
Despite its larger size, for heavy-duty, high-volume use, most contractors still choose an auto-fire cap tool over the manual hammer tacker.
Need additional help? Let one of our trained technicians guide you to the perfect cap tool for your project.
~ The Nail Gun Depot Team